September 21, 2022
6 Ways DESTINI Estimator Is User-Friendly
Although Excel was never intended as an estimating tool, one of the reasons it's remained so popular with preconstruction is that it's a very accessible tool—easy to learn and easy to customize. Excel was built as a data analysis and calculation tool. What that means is that it can't support some of the most crucial preconstruction functions, such as hosting and maintaining a cost history database or allowing for same-time, multi-user access and editing.
Unlike Excel, DESTINI Estimator—as you might have guessed from the name—was specifically designed with estimators in mind. But that doesn't mean that it's an immediate "YES!" for everyone. Change is hard and time-consuming, and often a "new" software can seem way too complicated at first glance, bogged down with features that are flashy but you can't see yourself using.
That's why we've focused on keeping DESTINI Estimator as user-friendly as possible through all of its versions and updates. Yes, we pride ourselves on bringing never-before-seen, cutting-edge features to DESTINI Estimator, but we also understand that not every team is going to be using 3D takeoff on the daily. So we wanted to share the top six ways that DESTINI Estimator is just as user-friendly, if not more so, than Excel.
Excel-Like Interface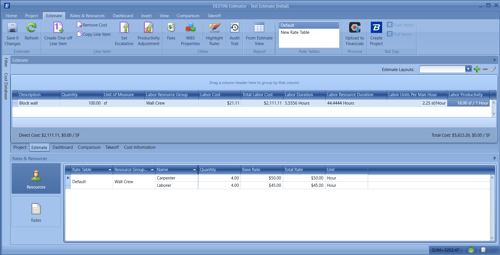 One of our favorite things about Estimator? You get all of the benefits of Excel without any of the limitations. When you enter your estimate view, you'll be met with the same spreadsheet composed of columns and rows to store line items and calculate costs in as few clicks as possible. Thanks to this minimalist interface, Estimator's learning curve is very low. Couple that with the one-on-one training we offer with our implementation specialists, as well as our customer success team, you'll be an Estimator pro in no time.
Unified Cost History Database
DESTINI Estimator isn't just a data analysis tool with a cost calculator attached. It's also the hub for every single bit of data that you'll ever generate as a precon team. Why is that so huge? Having a cost history database that is accessible to everyone on your team vastly improves the overall estimating experience. Instead of wasting time hunting down for certain information, everything you'd ever need to know is available at the click of a button.
This also adds to the overall "user-friendliness" of your estimating initiatives. When everyone uses Excel to estimate five different ways, when useful tips and tricks get siloed into one person, your team will become disconnected and possibly demoralized. It's especially hard for new estimators to advance in their careers when nothing is done the same way twice. With a cost history database, it's much easier to establish standard practices and supplemental training material.
Embedded 2D Takeoff
Unlike Excel, which requires you to leave the program, go to your takeoff tool, export the data, and then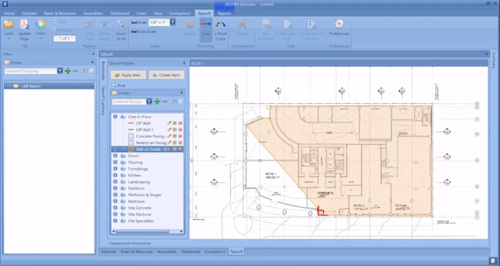 bring it back into your estimate, DESTINI Estimator offers in-house 2D takeoff that automatically derives the quantity of your line items and then adds them into you estimate, so that you can keep doing takeoff with the new line item too. Instead of worrying about losing data in between exporting and importing, everything stays in one place.
Integrates with Other Preconstruction Tools
DESTINI Estimator also integrates with other frequently used preconstruction tools—Excel being the obvious one, of course, because you can easily bring any preexisting spreadsheets into Estimator. But it also integrates with Procore's Project Financials, which lets you takeoff Procore's drawings and then push the resulting estimate data into Project Financials.
And it integrates with Autodesk's BIM360, allowing you to use 3D takeoff to create a building information model.
Comparison Reporting
With comparison reporting, you can quickly compare any project/estimate you're working on to any other project/estimate you've done in the past. This helps you identify trends and blind spots, and best of all, you can begin to develop what we call estimate templates if you do certain kinds of projects more frequently than others. For example, you may have a hospital estimate template or a school estimate template. This saves you and your team time by pre-filling in the answers to common questions that are asked when building an estimate for these kinds of projects, so that instead of starting from scratch, you're already several steps ahead.
Team Estimating
Team estimating is exactly what it says on the tin: multiple users working on an estimate at once. Let's say you're struggling with an assembly or confused about why a line item is in the estimate. Instead of having to call someone, send an email, or schedule a meeting, you can just hop on the estimate to work on it together.
Want to see for yourself?
We hope that reading about the six ways DESTINI Estimator is user-friendly has shown that moving to a new software doesn't always have to come with a headache-inducing learning curve. If you'd like to find out if DESTINI Estimator is really as user-friendly as it sounds in this blog, schedule a demo with us by clicking the button below.