August 09, 2022
The History of Excel Use in Estimating
Excel is one of the most commonly used programs in the world of preconstruction, in spite of the fact that it was never developed specifically for the use of estimating. Today, even though it's a widely recognized tool that almost every estimator has touched at some point in their career, Excel receives a laundry list of complaints from preconstruction teams. It's messy, doesn't connect well with other preconstruction tools, and no one uses it the same way.
So how did our industry wind up widely adopting a software that was never even meant for preconstruction teams? To answer that, we have to step back a few decades.
A Long Time Ago, In A Galaxy Far Away…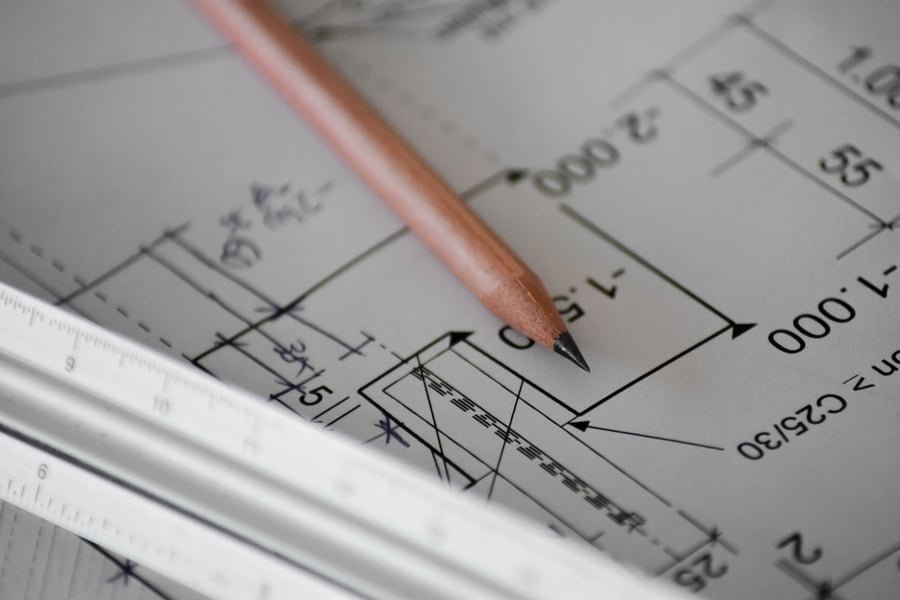 Back in the day, takeoffs and estimates had to be drawn up physically rather than digitally.
Okay, maybe not that long ago, and definitely not that far away. Before computers were widely accessible, almost all preconstruction tasks were handled in physical form. Budgets were drawn up with pen and paper and the occasional help of a calculator, takeoffs were sketched on anything and everything, phones were ringing constantly to ensure that bids were coming in from subcontractors and project owners were being updated on countless design changes.
Although computers had been around for some time, they didn't become publicly accessible for non-technical single use until around the 1980s. And not too long after that, in 1982, Microsoft Excel was born. It was originally called "Multiplan"—it wouldn't be known as Excel until 1987—and it was meant more for your everyday, run-of-the-mill corporate accounting. Excel's true power would be fully recognized in 1993, when Microsoft added a feature called Visual Basic for Applications (VBA), also known as Macros. This feature allowed for automating tedious tasks like number/formula calculation, as well as presenting data to others.
Excel quickly took off among companies across industries because it was affordable, customizable, and fairly easy for new users to learn. It was especially attractive to general contractors. Finally, a way to keep track of data and save more time by automating tasks ripe for error like calculation!
Unfortunately, the cracks in the glittering façade soon began to show. Excel's customizability was a double-edged sword in the world of preconstruction. No two estimators worked the same way in Excel, making it difficult to share resources in multi-office companies or ask for help on specialized projects. The infinite amount of spreadsheets required to store data just made finding specific quantities that much harder. On top of that, information wasn't centrally hosted, meaning that certain estimates and calculations might be housed on one person's computer. If they weren't available, good luck trying to pull the information you needed.
Why Did Excel Remain So Popular in Preconstruction?
In spite of these flaws, Excel continued to be the primary tool for preconstruction teams well into the 2010s. Although other estimating software had begun to emerge on the market, they usually suffered from similar problems or, like Excel, weren't actually made by a company that really knew what estimators needed.
Adopting a new preconstruction software also meant a huge investment for general contractors—time, money, labor, and training. For many companies, the safer—and in many ways wiser—choice was to remain with Excel, warts and all. Making such a significant change is a huge ask for any company, but especially those in construction, where the philosophy of "if it isn't broke, don't fix it" often reigns supreme.
Where Do We Go From Here?
It's easy to talk about all the negative aspects about using Excel for estimating. It's a lot harder to offer a solution that is not only comparable to, but even better than Excel. At Beck Technology, though, we're always up for a good challenge, and since 1995 we've been dedicated to actually solving common preconstruction problems instead of trying to shoehorn a few estimating features into programs that weren't actually made by people in the industry, much less meant for people in the industry.
That passion has resulted in our flagship construction estimating software, DESTINI Estimator. Although it has an Excel-like interface, DESTINI Estimator does all of the things Excel can't, like providing the ability to create estimate templates so you can focus on winning more projects faster, as well as. Most significantly, DESTINI Estimator is a preconstruction solution made for preconstruction, by people from the construction industry. We actively take client feedback and use it to help develop features and updates.
Making the leap from Excel to a full-fledged construction estimating software like DESTINI Estimator can be scary and overwhelming. But it's worth the investment, and you won't be alone—you'll have the help of our support and implementation team, as well as our online preconstruction community where you can talk to DESTINI Estimator users who have already been on the same journey.
If you're ready to start new traditions and invest in construction estimating software that's actually designed for preconstruction teams, schedule your demo today.