November 15, 2023
How Technology Impacts Preconstruction
Each new technological advancement in construction has significantly impacted the efficiency and safety of how we build buildings. Historically, though, these technologies have focused on developing tools to use in the field, leaving preconstruction and other in-office work to rely on old methods of creating deliverables.
The 80's gave us Excel, which for the time, was revolutionary in the way that precon teams could do their jobs. But just like 80's hairstyles, technology has vastly improved since the days of spreadsheets.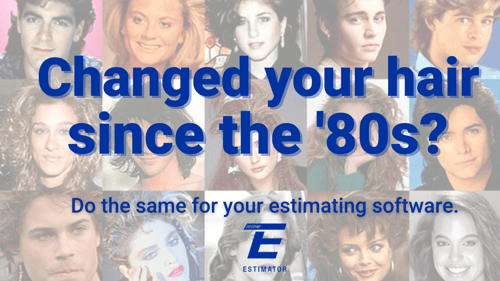 There is now so many platforms made for preconstruction that streamline processes, help reduce risk, increase communication between internal and external stakeholders, and saves estimators time by eliminating time wasted in performing manual and redundant tasks.
Now that there is a plethora of tools to support preconstruction activities, what is driving this move toward technology and what is technology's role and impact on preconstruction?
Construction Dive got some of the biggest players in contech to discuss technology's impact on preconstruction and the conversation was fascinating.
This roundtable consisted of Stewart Carroll, President of Beck Technology; Johnny Maghzal, Head of Product Development at Togal.AI; Andrew Zukoski, co-founder and CEO of Join; and Michael Ho, CEO of Bespoke Metrics.
What's Driving This Move Toward Technology?
Profitability




With such low profit margins, the construction industry should be embracing ways that increase profitability across the board. Michael says technology allows for increased efficiency by reducing mistakes, avoiding problems before they occur, and eliminating manual work. "This all comes back to how can we make more money," says Michael.



Change in Delivery Method


Andrew mentions that at Join, they see a lot of their customers shift from the traditional design-bid-build method of construction to a more collaborative one. He says the boundaries between construction phases are blurring, whereas precon was happening all at once and then work passed on, now everyone is getting involved earlier and continuing to stay involved while the design progresses and work is moving into the field.
Andrew says, "You used to win work just on the lowest number," but with these collaborative delivery methods and emerging tech, GCs now can take owners on a "journey" through the process. He says, "Executing that process well is now more important to winning work, bringing business in, and making more money."
What Impact Does Technology Have on the way that Preconstruction Teams do Their Job?
Estimators no longer have to be just number crunchers. Technology allows for precon teams to utilize their full specialized skill sets—construction estimators can be data analysts, relationship managers, cost trend forecasters, and expert problem solvers.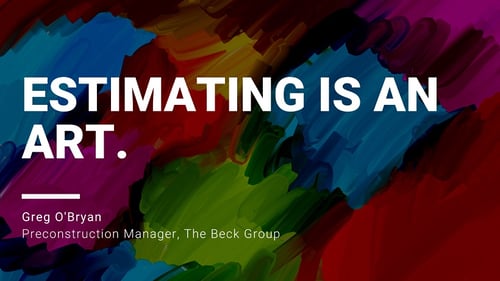 Switching from using 6 to 12 different tools to one integrated preconstruction tech stack lets precon teams spend their time on making the project better, not on manual tasks and clicking and dragging information from one platform to another. Software streamlines the process so estimators can spend the time value engineering a project, collaborating with the stakeholders, and working with subs.
Technology truly lets teams do more than they ever have before. Not only that, but smaller companies are able to compete better with larger companies with the use of technology.
"It's the End of the Excel Guru Era!" - Johnny Maghzal
Johnny says tech introduces and provides consistency into the process. Not only can you stop relying on that one Excel expert on the team, but standardizing technology allows you to train easier and communicate better, all leading to a better process. He says, "This consistency is providing the opportunity for construction companies to mine this data and understand it."
Andrew draws in a heartfelt point. You don't base your legacy on the work you do in a particular software. You base your legacy on the buildings you build. When you can make a bigger impact on the finished project, which technology enables you do to…. that's your legacy.
How does Beck Technology's Integrations Benefit General Contractors?
Beck Technology's construction estimating software, DESTINI Estimator, integrates with Togal takeoff, Join, Autodesk BIM 360, Procore, and Microsoft Power BI. Why is an integrated construction tech stack important? Because taking a broad approach to integration opportunities eliminates waste and lets you "short-circuit traditional process," says Stewart.
Plus, owners are now expecting tech integration. Andrew says, "Integration lets you connect the dots between different phases of the project."

How Can Contractors Ensure Success When Investing in Technology Integrations?
First and foremost, you need to have a solid business case to justify the investment. Look at what your biggest pain points are and what business problems you are trying to solve. From there, Stewart suggests seeking out other GCs who are facing the same challenges and network with them. He says to attend events, talk to your peers, and dive deep into vendors' products, promises, and culture.
Stewart says, "Eliminate cool technology for the sake of being cool technology that doesn't solve a business problem." Johnny reiterates, "The process should drive the technology" and not the other way around.
"Tools that don't integrate well are worse than tools that don't integrate at all," says Michael. His advice is to look for the best-in-class software in functionality that also integrates with the other best-in-class tools that solve your issues.
What Will Estimators Be Doing If They're Not Counting?
The passionate response from the panel proves how much positive impact preconstruction can have on project outcomes.
Johnny says, "Every building we are building is a prototype. There is a lot of human art that we should put into whatever we are doing. Focus on the art piece of what we do."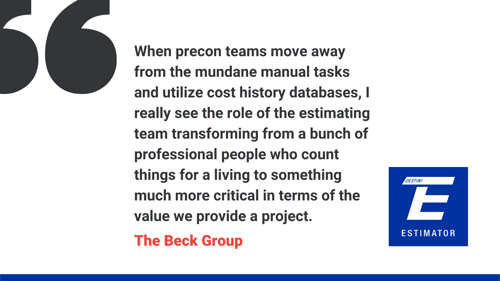 Stewart says technology eliminates the time it takes for precon teams to focus on counting and instead allows them to focus on higher-value tasks that make the project better like putting more glass into schools to enable kids to retain more information from natural sunlight or figuring out ways to put an extra bed in a hospital. He says, "The quicker we can get to an accurate, valid, transparent estimate for that base case, we then need to spend as much time as humanly possible looking for better solutions to that project."
Technology elevates estimators. It elevates the entire process. It supports the preconstruction data lifecycle, and it contributes significantly to building a better building.
DESTINI Estimator and its integrations really are revolutionizing the industry and creating the future.