November 02, 2022
5 Best Preconstruction Technological Advancements
What are the five best trending construction technologies that preconstruction teams are utilizing to build better?
BIM

Artificial intelligence

Cloud-based connection and integration

Smart building

Augmented reality
Technology improves lives. Period. There is not one industry that doesn't benefit from its advancements. Beck Technology was founded to create solutions based on defendable data so that preconstruction teams could make better project decisions and avoid costly and unsafe mistakes—improving the built environment.
Beck Technology's mission is to revolutionize the industry and create the future. Our estimating and bid leveling software are just one piece of the puzzle, though. We're only a part of the other groundbreaking construction technologies that are also making the world a better place.
The best construction technology and software form a comprehensive data lifecycle from a project's inception to its completion. For example, PARIC Corporation's preconstruction team uses laser scanners and drones to gather a complete picture of a project site so they can get costs right the first time in their estimates. These scanning and photography technologies, paired with DESTINI Estimator, allows PARIC to deliver highly accurate conceptual estimates and easily create templates for similar projects in the future
All-in-all, forward-thinking GCs embracing construction tech are linking operations with precon for better collaboration internally, as well as delivering a higher quality product to clients than those still relying on outdated methods of estimating.
Though not all the tech in the following list are preconstruction-specific, many general contractors and construction management companies are creatively fusing them to improve processes and solve construction problems.
BIM
What is BIM?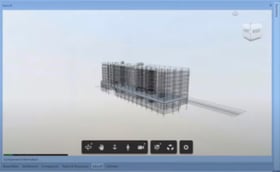 Building Information Modeling—BIM—is a 3D computer model of a project. It provides a realistic rendering of a building even in its earliest phases. Using BIM increases collaboration between precon, owners, and designers and helps estimate scheduling and cost accurately, as well as helps identify risk and project challenges, and reduces change orders.
According to Constructionplacements.com, a site for industry news, 30 to 35 percent of GCs use BIM and Bigrentz.com writes, "Building information modeling may currently be one of the most important developments in construction because it affects and improves every aspect of the construction process."
Many DESTINI Estimator users also use BIM. The Korte Company uses 5D Macro BIM to on-the-spot demonstrate how different build options and design will affect the cost of a project.
Brent Pilgrim, National Director of Preconstruction at the Beck Group says, "…as we move more to the model-based estimating, I really see the role of the estimating team, the preconstruction team transforming from a bunch of professional people who count things for a living to something much more critical in terms of the value that we provide to a project."
Andy Leek, Vice President of Technology and Innovation at PARIC, is a huge advocate of BIM 360 for change management. He says, "the power of it today is that it allows us to sort and filter the model down really quickly."
Artificial Intelligence (AI) and Machine Learning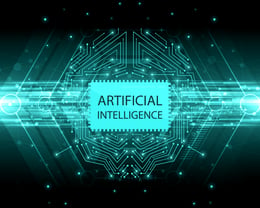 Are AI and machine learning the same? Artificial intelligence is using data and computers to solve problems, make predictions, and plan outcomes. Machine learning is a type of AI. Bethany Edmunds, associate dean and lead faculty for Northeastern University's computer science master's degree program, says, "Where artificial intelligence is the overall appearance of being smart, machine learning is where machines are taking in data and learning things about the world that would be difficult for humans to do," she says. "ML can go beyond human intelligence." Machine learning can analyze large datasets and find patterns and abnormalities in those datasets.
Autodesk, one of Destini Estimator's integrations, uses machine learning in its Construction IQ service within BIM 360. Autodesk says one of its clients using Construction IQ reduces quality and safety issues 20% by using it.
Another Beck Technology partner and DESTINI Estimator integration is Togal.AI, which uses artificial intelligence to improve and speed up takeoff. Togal.AI automates 2D takeoff within 97% accuracy and eliminates up to 80% of the time that it takes to do takeoff.
With bad data being one of the top problems in preconstruction, costing the industry $1.85 trillion, technologies that integrate AI and machine learning help ensure your estimates are accurate and defendable to owners.
Cloud-Based Connection and Integration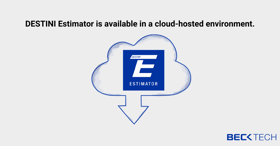 Collaboration is the new efficient workflow and the way to win clients. We hear it from every single one of our DESTINI users. Working in isolated silos isn't working anymore. Disconnected workflows and inconsistencies in deliverables are two of the top pain points for preconstruction teams. The only way to fix this is by introducing a single source of truth for your estimating process.
Cloud-based software means anyone anywhere can access the same information in real-time and keep everyone on the same page. Increased communication helps prevent change orders, costly missteps, and deadline overruns.
The tools you use to communicate and complete estimates need to work together to create a seamless and efficient workflow. This is called integration. Using multiple tools isn't just frustrating, it wastes valuable time and introduces risk to your process. In an inherently risky industry, why would you ever want to introduce or continue to use anything that exacerbates that risk?
Fortunately, as legacy estimating software is sunsetted, innovative data-based software is taking its place and recognizing that the essential precon tools like Autodesk BIM 360, Procore, and others need to integrate so preconstruction teams can complete the data lifecycle accurately and efficiently.
No longer tied to a desk because of cloud-hosted software, it is easier to review, make changes, and share information with designers and operations about projects. Better decisions are made, and owner expectations are met.
Smart Building
Building Design & Construction writes, "…owners actively seek out new ideas, and lean toward AEC firms that lead them to cutting-edge products, innovations and delivery methods, especially those whose return on investment is evident and measurable. Solutions with cost control baked into them are more likely to attract owners' attention."
Estimating is an art and when your precon team is spending most of their time piecing estimates together like Frankenstein's monster, you aren't utilizing one of their best skills—problem-solving. When estimators have the right tools to make them as efficient as possible, they have the time to value engineer a project, which is what owners want.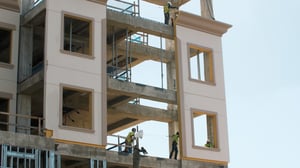 They leave it up to you and your team to make the right decisions (which should be based on defendable data), and to find the right materials to build a sustainable and better building within budget. Smart building and advanced materials, like prefab, solve many of the problems we face in construction today—environmental impact and labor and material shortages. For example, Brasfield & Gorrie used prefab when building the HCA Florida University Hospital and were able to shift 26,708 man-hours off-site, while also improving the project's schedule.
Further, Snyder Langston's project, the St. Joseph Health Mission Hospital Judi and Bill Leonard Cancer Institute, required "extensive site work" and innovations in building and design to complete the medical center which houses robotic surgery technology and genetic counseling. The work done at the Institute is detecting disease earlier and developing better strategies to combat cancer.
Constructionplacements.com writes, "…ensuring that the build environment is operating as effectively as possible is critical to the sustainability and successful development of the human race."
Augmented Reality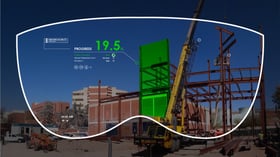 Though not common yet, one of the top emerging trends in many industries is augmented reality (AR). It is estimated that by 2024, AR will be a $50 billion industry. In construction, AR can significantly help mitigate risk, aid in design, and increase safety on the job site.
What is augmented reality? Microsoft defines it as "Augmented reality is an enhanced, interactive version of a real-world environment achieved through digital visual elements, sounds, and other sensory stimuli via holographic technology. AR incorporates three features: a combination of digital and physical worlds, interactions made in real time, and accurate 3D identification of virtual and real objects."
AR can bring an owner's vision to life before ground is even broken. It demonstrates the impact of changes and different design elements. It can help detect where problems can arise and importantly, can increase collaboration between design, precon, ops, and owners so that better decisions are made throughout the life of a project. The future of augmented reality in construction could mean the eradication of change orders.
Though only 1% of companies are using AR in any industry, there are already augmented reality glasses, headsets, and software integrating with BIM 360 made specifically for the construction industry.
DESTINI Estimator users, McCarthy Building Companies, are already tapping into the technology by using virtual reality headsets to show what a building will look like to clients and in one case of a hospital build, hallways were wide enough for stretchers.
In the case of McCarthy, AR is being used to create the future and improve lives.
Though a good selling point, construction technology isn't about being able to boast that you're on the cutting edge. It's about improving the world. In the preconstruction phase of a project, this can be a little hard to grasp because it's so intangible. But these emerging technologies are clearly being used to benefit all.