October 19, 2021
How to Use Contextual Data to Inform Project Decisions
At Advancing Preconstruction 2021, Beck Technology held a workshop and asked three of its clients to talk about the ways their companies utilize and analyze data through new preconstruction technologies. Andy Leek, Vice President of Technology, and Innovation at PARIC Corporation presented how PARIC uses game-changing technology to get a complete picture of the scope of all their projects.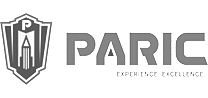 PARIC Corporation is a general contractor, construction manager, and Design-Build firm headquartered in St. Louis, Missouri. The company has been in business since 1979 and is one of the largest privately held companies in the Midwest.
As part of the leadership team at PARIC, Andy holds a Bachelor of Science Degree in Architecture and has been named a Top Tech Executive in St. Louis. Working for PARIC since 2012, Andy moved into the role of Vice President of Innovation and Technology in 2018. Before Andy, PARIC was using paper-based workflows. As VP of Innovation and Technology, Andy has integrated a single source of truth for data collection increasing PARIC's efficiency and its communication and collaboration between teams and owners and leverages technology for its preconstruction process.
PARIC uses technology to gather contextual data to make better project decisions. Andy says, "PARIC's preconstruction services are very focused on understanding the constraint of the project upfront. Providing that context to the project team upfront. Becoming partners with our designers upfront. And giving them all the data we have."
What is Contextual Data?
Contextual data is all the information gathered from an environment. It allows for a better understanding of a person, thing, or event. In this case—a construction project.
Andy says contextual data is crucial to getting your prices right. PARIC uses contextual data to:
Make better decisions
Increase communication and collaboration
Build trust with owners
Making Better Project Decisions
Two of PARIC's primary technologies used for gathering contextual data are drones and laser scanners. These tools allow preconstruction teams to investigate a project site from the largest of details like the amount of space and type of soil to the smallest like the logistics of deliveries. Knowing the constraints of the site and the site condition helps preconstruction teams build a plan. Andy says, "ultimately that data is driving you to the decision-making process" and allows you to easily explain the reasons why certain decisions were made.
Software like Beck Technology's DESTINI Estimator provides a standardized and centralized location of all your data which is easily shared in real-time between team members, "so, we're making decisions together and know how we got there."
Sharing key data points throughout the life of the project increases communication and collaboration.
Increase Communication and Collaboration
PARIC's preconstruction team shares this data with their design team, subs, and owners. This data can be used to drive meetings. Informing the client throughout the process especially when unexpected changes happen, allows everyone to see in real-time how the project is impacted in cost and timeline.
Using construction estimating tools like DESTINI Estimator and Power BI dashboards, there are visually appealing ways to show your clients why changes in pricing occur. This builds trust.
Building Trust
When the owner has proof of where your numbers come from, they can make better decisions. Your preconstruction team can collaborate with owners and show them options. Keeping owners informed through progress and production tracking means no unexpected costs cause problems during the entire process. Owners are more willing to trust you when they understand fluctuating costs.
Data Analysis
After a project is complete, with software, you can analyze your estimate and see where you were accurate and where you were not so accurate. This cost history analysis allows precon teams and estimators to know how to make better estimates. Better estimates increase trust with owners which wins more projects.
If you would like to watch Andy's full presentation, click here.