June 22, 2021
What Happens During a DESTINI Estimator Software Demo?
Are you interested in a free demo of DESTINI Estimator construction estimating software but not sure what to expect? Don't worry, the process is super simple!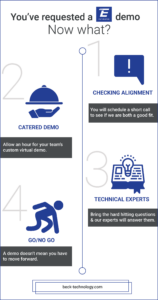 You're thinking about clicking submit on our demo form but wondering what to expect?
After submitting your demo request, you will receive an email to choose a time convenient for you to schedule the first call. That call will determine if we are a good fit for each other.
Next, you will find a time for the custom demo. The demo lasts up to an hour and will only show the features and functionality important to your team.
After the demo, we know you will have more questions so we ask you to bring those to our technical experts.
After getting those questions answered and making sure everyone is on the same page, we ask your team to make a decision about moving forward with our construction estimating software.
Simply stated—do you want to continue the exploration process of DESTINI Estimator for your team or is it not a good fit?
It's as easy as that!
Interested to see if we might be a fit for your team?
Curious about what happens next? Click here!