December 14, 2022
How to Leverage Assemblies
Assemblies are one of DESTINI Estimator's best features, yet most users aren't taking advantage of them. Two informal audits of DESTINI Estimator users—one performed internally and one asked of attendees at Precon World 2022—proved that it is an underutilized feature in the estimating platform.
Assemblies make preconstruction teams more efficient, more accurate, and save you a bunch of valuable time.
What are Assemblies?
Assemblies are a group of interrelated line items with a series of questions asked about them.
Assemblies often start with a question around the level of detail associated with the line items added to the estimate. As questions are answered during the use of an Assembly, the line items to be added to the estimate are displayed below the questions.
The question and any follow-up questions that introduce line items into the estimate are controlled by you and our team during implementation of DESTINI Estimator.
The Beck Technology Services team builds your customized Assemblies based on your information.
Assemblies Case Study—Saunders Construction
One of the expert users of Assemblies is a self-perform concrete contractor, Saunders. Saunders Construction had used an Excel-based internally developed proprietary platform for close to 20 years. To meet the demand of owner expectations and to harness the power of Assemblies, Saunders switched over to the data-driven estimating software, DESTINI Estimator.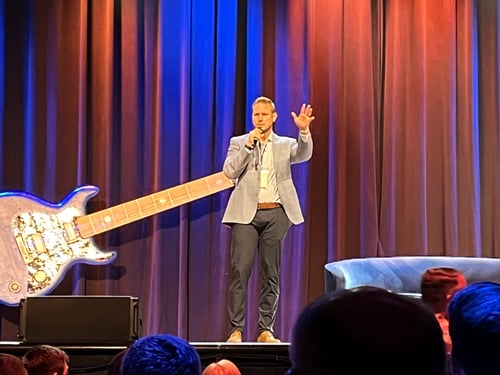 Grant Stucker, Preconstruction Manager at Saunders, describes Assemblies as "one of the best things about this platform" and "a game-changer."
At Precon World 2022, Grant presented how Saunders leverages Assemblies in DESTINI Estimator and pointed out how Assemblies benefit them.
Why Use Assemblies?
Grant states there are two primary reasons why you should leverage assemblies—a business case and a people case.
The Business Case
Leveraging DESTINI Estimator's Assemblies:
Allows estimators to be more efficient without sacrificing accuracy.

Eliminates and reduces low-value tasks like manual data entry.

Reduces human error.

Gives you time to focus on high-value tasks like collaborating with design and subs, and value engineering.

Captures indirect and 'back-burner' items like labor, equipment, and survey.

Is easy to learn and highly repeatable, so new estimators learn the same way.
The People Case
Grant says, "A high-value task doesn't necessarily mean business-related." Because so much time is saved using Assemblies, you have time for yourself and the things you care about outside work. "This system and using Assemblies have given me the opportunity to go home a little earlier to coach my son's baseball team, to cook breakfast for my kids, to be present in my family's lives," Grant says.
Beck Technology's mission is to revolutionize the industry and create the future. For us, creating the future means creating a better future for everyone. Our DESTINI suite of preconstruction software helps solve some of the most critical problems in construction, and when given the right tools, preconstruction teams can mitigate risk and make the best project decisions. Better buildings improve the lives of those who live and work in those buildings. Our data-driven solutions help preconstruction teams make better project decisions faster and more accurately allowing time for estimators to provide a higher value to owners, as well as giving time back for themselves.
Grant presented a session at Precon World 2022 discussing how to leverage Assemblies. To watch his session, click the button below.