October 05, 2022
How to Create an Efficient Preconstruction Review Process
Imagine what it would be like to be able to hand over highly accurate deliverables to owners in record time...
Now think about what you and your team could do with that extra time…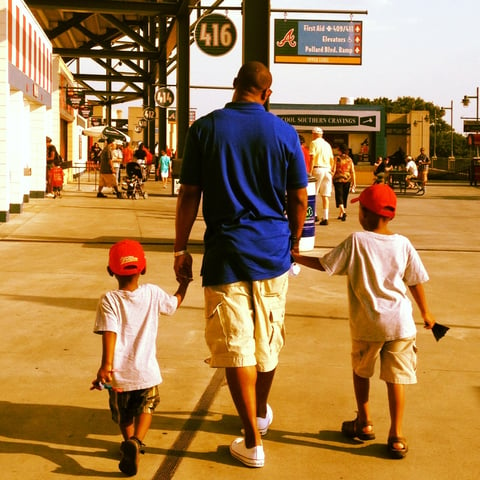 One of the top major pain points for our clients before switching to DESTINI Estimator estimating software was the time spent piecing estimates together from multiple tools. We know that precon teams generally do not have enough time to put together an accurate conceptual estimate, much less have the time to value engineer a project, creating a consistent problem.
In all industries, from stakeholders and C-suite to admins and interns, everyone invested in their work should always be searching for ways to be more efficient. And for good reason. Increased efficiency equals increased productivity, better product deliverables, and higher employee engagement. The bottom line of business efficiency, though? Your competitive advantage and return on investment. Efficiency can be measured and relates to increasing profitability for a company.
Yes, owner expectations of turnaround times have increased, as has the number of projects, however, the 'not enough time' is just an excuse. Construction growth—which is great for all of us—isn't the reason why you aren't delivering. The reason there isn't enough time is due to inefficient and outdated workflows.
There. We said it.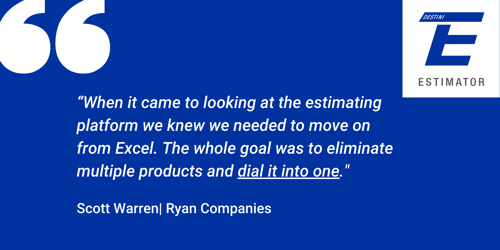 Using Excel to manage costs, a separate takeoff software, plus [insert the number of tools you use here] creates not only chaos in trying to track down information but also creates inefficiency in the precon process.
For example, Gilbane Building Company's preconstruction team before switching to DESTINI Estimator was using multiple tools that didn't talk to each other. Justin Wetherby, a Senior Estimator at Gilbane, says they needed a "quicker, better, faster, leaner" way to their workflow and "a better team estimating environment." Collaboration and consistency are key to creating a better estimate faster. But how can you do that when you are running around like a chicken with its head cut off with deadlines approaching?
By consolidating your estimating efforts in a one-stop-shop construction estimating platform like DESTINI Estimator, you can cut the time it takes to produce a defendable, accurate estimate by up to half. For Gilbane, DESTINI Estimator provides them with a more efficient way of estimating. Justin says, "At the end of the day when it's the final hour and you have to get an estimate done…you don't have to pull it all together." Everyone working together in the same estimate saves time by eliminating the need to hunt down information.
Team Estimating speeds up the review process and keeps everyone on the same page. Plus, all your historical cost information is right there at your fingertips.
What is Team Estimating?
Team Estimating is a feature in DESTINI Estimator that allows every user to work on one estimate at the same time. Changes reflect in real-time, so no one is waiting for the latest information or update.
Team Estimating Use Cases
Before switching to DESTINI Estimator, Balfour Beatty was using 11 different tools that did not integrate with each other across many offices. Landon McQuestion, Director of Preconstruction and Estimating at Balfour Beatty, says they had so many variances in SOPs that estimates could be confusing to owners. With DESTINI Estimator's Team Estimating feature, Balfour Beatty had every estimator doing the exact same thing.
Robbie Gronbach, Director of Preconstruction at Willis Smith Construction says, "…we have a tool set up for a workflow where if there is an internal note inserted by one of the team members, it automatically highlights that row. If somebody has a question for somebody else, or there's something we want to make sure that we're covering, we can do that, and it triggers a notification."
For Clark Construction Company, Team Estimating helped create a more efficient and faster review process. Allison Clark, Senior Estimator and Planner, says:
Another great thing about DESTINI Estimator is that previous to us getting DESTINI Estimator…we had to print out our estimates and our PDFs for Garry (Director of Preconstruction at Clark) to review. Now that we have Team Estimating, I can be in the estimate, the people that are helping me do that project, we can all be in it and Gary can review it as we're still working in it making our last-minute changes. Whereas previously he had to wait until we were completely done and then review it and then we had to go back in, make our changes. That team aspect, that ability to have multiple people in the estimate at once has allowed us to streamline our process, make it a lot more effective and efficient for that review process.
Estimators utilize the benefits of Team Estimating differently but one of the most time-saving ways is by creating a faster and easier way for Preconstruction Managers and Directors to review estimates.
Say Goodbye to the Old Way
Are you currently having to piece together estimates, print out stacks of spreadsheets, and then hand them over for review?
The precon manager then must take the time to review, note changes, and give the estimate back to the precon team, and then you have to take the time to make the changes.
How long does that process take?
This is a totally unnecessary process when you have estimating software specifically built for precon teams to work together on one platform. With Team Estimating, peer and manager reviews can happen as soon as changes are made.
Technology makes our lives simpler and easier. There is no reason why you shouldn't also use the latest technology to improve your workflows in precon. Save time. Build trust in owners. Deliver a consistent product. Win more work. It's that straightforward.