June 09, 2021
How to Create a Power BI Account & Workspace
What is Power BI?
Power BI is a Microsoft program that connects all of your data sources into one hub, allowing you to create dashboards and reports so analyzing and sharing information with your team is easy, consistent, and secure.
Click here to get started with Power BI.
Account set-up
Power BI Registration
To share your insightful reports and dashboards with others internally and externally, you will need to publish your document to the Power BI Service workspace online. Furthermore, to access the Power BI Service online, you will need to have a registered Power BI account if you don't already have one.
To create a Power BI account:
Run the Power BI Desktop Application as an administrator.
You will be prompted to enter your credentials. Use your company email and click done. After clicking done, you will be prompted to sign in. Registering and signing up for an account will be covered. Click the cancel icon for now.
Click Sign in in the top right corner of your Power BI desktop window.
If you already have a Power BI account registered with your organization's email address, enter your email in the text field and click sign in. If you are creating a Power BI account for the first time or unsure if you have an account, click Need a Power BI account? Try for free. Then enter your company email and click Sign Up. You will either be prompted to continue the registration process or you will get a message stating that you already have an account with Power BI.
If you are prompted with a message stating that you already have a Power BI account, proceed to this link https://powerbi.microsoft.com/en-us/landing/signin/ to sign in to your Power BI Online Service.
Once you are logged into your Power BI online service account. You will need to create a workspace to host and share out your dashboard.
Creating a Power BI Workspace
A Power BI workspace is a shared environment for a group. You can have multiple Power BI content in a workspace. One workspace can have hundreds of dashboards, reports, and datasets in it. In addition, you can add other people to the workspace and give them access to edit or read the content.
Workspaces are like shared folders. Everyone with access to the Power BI online service has a workspace named "My Workspace". "My Workspace" is similar to the "My Documents" folder on your local machine. "My Workspace" should never be used for sharing content with others except for testing.
To create a group/company workspace:
Click on the arrow on the right side of Workspaces to expand the list of your current workspaces. Then click on Create a workspace.
Enter the details for your new workspace and then click Save.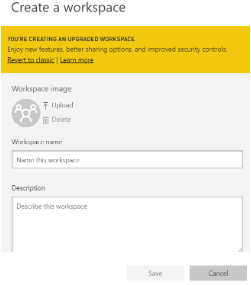 More information can be found on the Microsoft website here.