August 16, 2022
How Estimators Can Work From Home
Remote work has become one of the most popular ways to approach employee schedules in the last several years. It's one of the few labor trends that benefit both employers and employees. Employers get to save on overhead for maintaining pricey office spaces, and employees get to enjoy greater flexibility with their time—and, for many, increased productivity as well.
We've already written about all of the incredible reasons why you should encourage your estimators to work from home more, but what does that look like practically speaking? Taking your estimators to 100% remote work isn't always possible. A hybrid schedule, however, can help you have the best of both worlds.
What are the most important things to know if you decide to move toward a hybrid working model as a preconstruction team? There are three critical factors to consider once you're ready to embrace working some of the time from your home office.
Ensuring that you have the right tools, like a connected database, so that your estimators can access information they need anywhere, any time
Deciding beforehand what "hybrid" means to you and your team
Resisting the urge to micromanage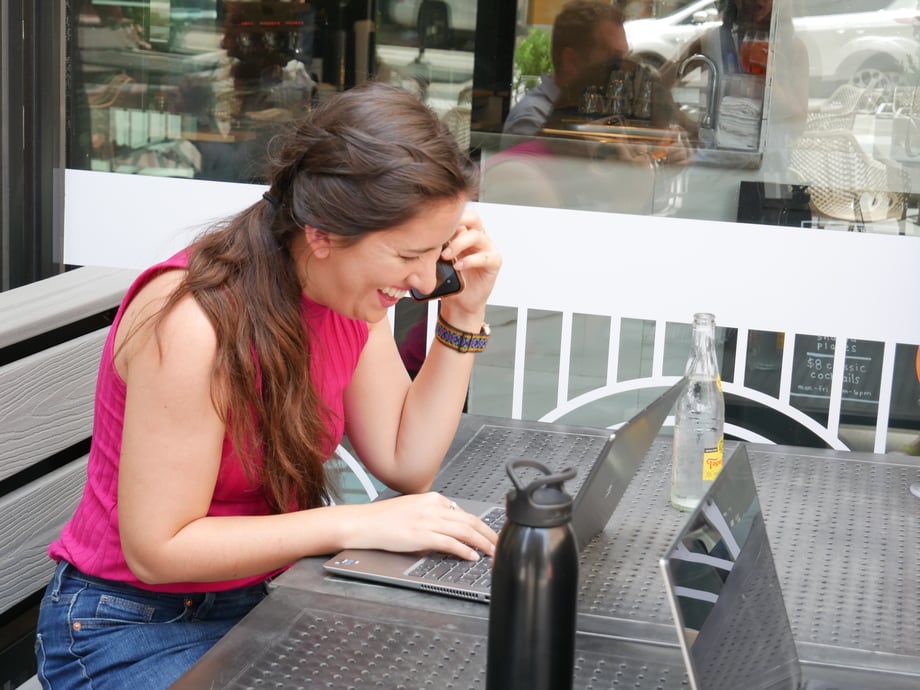 Employees who are given the flexibility to work remote are happier, just as productive, and stay at their job longer.
One of the biggest keys to successfully moving to a hybrid working model is making sure that you already have the tools to make it happen. In other words, if all you have available is Excel and maybe WinEst, it's going to be that much more difficult to move away from the office. Data needs to be immediately and easily accessible so that estimators can actually do their jobs. A comprehensive construction estimating software like DESTINI Estimator provides a cloud-based cost history database so that estimators can retrieve what they're working on anywhere they have a WiFi connection.
Additionally, by utilizing a more robust estimating tool like DESTINI Estimator, you can still send and receive feedback in real-time thanks to features such as team estimating, which allows your team to remotely work together on an estimate.
Deciding beforehand what "hybrid" means to you and your team
A hybrid schedule could look like having a set number of days in the office every week, or it could look like only having one remote workday per week. Some companies choose to do an A/B schedule, in which their teams must be in the office every day every other week. Other companies may be even "stricter" and only allow for flex start and end times, with remote work available only for medical appointments.
You and your team will need to agree on what works best for your unique situation before rolling anything out. It's especially critical to realize who absolutely needs to be in the office in order for the team to be most effective—it's often beneficial to have at least one key member in every week so they can access any office-specific tools or related equipment for those that can't make it to the office.
Resisting the urge to micromanage
Perhaps second only to having the appropriate tools, resisting the urge to micromanage your estimators' every move will be huge in creating a smooth transition to a hybrid working model. At the height of the popularity of remote work in 2020, Slate published an article describing some of the most intrusive ways managers kept tabs on their teams. Some of these included being made to leave your video camera on all day so that you could be observed working, multiple detailed updates each day, and being asked to install monitoring software on personal computers. Micromanaging to this extent is extremely demoralizing, and you run the risk of losing team members.
Now, obviously that doesn't mean that you just let everyone loose to each do their own thing. If you didn't already have them, establishing routines like brief, once-a-day check-ins will help your team stay on track. On top of that, though, it's important to set expectations around other things such as company messaging platforms. Are you going to freak out every time someone doesn't answer within ten minutes? Is it okay to send a message on Teams after hours? On video calls, does video always have to be on, or only for certain situations such as client-facing calls? Do people have to let a manager know if they have an appointment at a certain time, or do they need to let the whole team know?
Asking and answering these questions will not only help prevent you from falling into micro-management, but it will also bring more confidence to your estimators and prevent resentment. When expectations aren't communicated appropriately, you can create a lot of demoralization without even realizing it—it's easy to fall into double standards if you don't have set-in-stone policies around common situations like not having cameras on during a call.
What's Your Favorite Advice?
If you've already made the transition to a hybrid working model, we'd love to hear your thoughts on what advice helped you the most. And if you're still in the office but are starting to consider moving towards a more hybrid approach, schedule a demo with us today at www.beck-technology.com/contact/ to see the only construction estimating software that actually enables you to successfully work from anywhere.