February 24, 2023
7 Signs Its Time to Upgrade Your Estimating Software
Your systems don't integrate.

Your current workflows are a hassle.

It is difficult to use.

Your software is getting sunsetted and is no longer supported.

It was bought out by a huge conglomerate.

It lacks innovative features you need to stay competitive.

Every estimator is doing it a different way.
Look around your office. How many people still carry a flip phone? Anyone? Well, then you know that even those who are reluctant to change from the old way of doing things in precon can be convinced to upgrade.
Whether you have a dedicated estimating software you use already or multiple ways to create estimates, if you haven't audited your workflows and processes in a few years, you'll be surprised at the amount of advancements in preconstruction technology. Artificial intelligence (A.I.), augmentation, big data capture and analysis, prefab, robotics, drones…the list goes on. And though you may not be ready to invest in SAM, the brick-laying robot, or augmented reality goggles yet, there are tested and proven technologies that are not only improving processes but are leading to better project decisions and higher-quality deliverables.
Owners are demanding innovation and if you aren't keeping up, you are going to get overlooked.
Take notice of your processes now and if you have any of these seven signs, it's time to start looking for a software upgrade.
Your Systems Don't Integrate

There are oh so many estimating and preconstruction tools out there. Yet not many integrate with the other necessary systems your company uses, like your accounting software or your takeoff software. Exporting is clunky and time-consuming at best—impossible at worst. Your information is at risk when you must manually input data into multiple systems.
There are now not only single-source solutions that combine almost all of your workflows into one software (including takeoff, assemblies, templates, and cost history) but these systems also integrate with BIM 360, Procore Financials, and Togal.AI to create one powerful estimating system that streamlines and standardizes, and incredibly increases the efficiency of the preconstruction process.
Your Current Workflows are a Hassle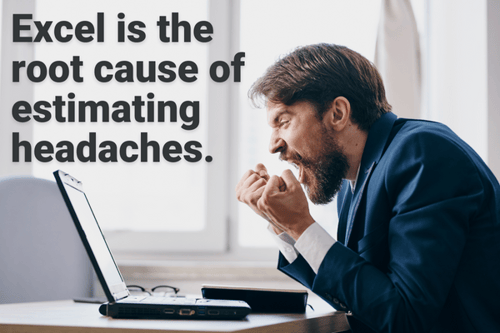 Clicking, dragging, copying, pasting, manually entering data, repeat work…trying to stitch together a deliverable on time from Frankenstein's monster causes big problems in precon. There is no time left for estimators to utilize their true superhero skills. There is no time to value engineer a project and add extra value to owners because all their time is spent doing mind-numbing work. Besides that, piece milling from Excel, Autodesk, and all your other programs is error-prone and not set up to confidently present an (accurate) conceptual estimate to owners.
Outdated processes and long hours will lead to your best estimators leaving—either the profession altogether, or to your competition who is implementing the latest and greatest in precon technology.
It is Difficult to Use
All good enterprise software requires a learning curve and training. However, it shouldn't be so hard that people aren't using it. Reddit user u/JPMinc writes, "Up until the last two years, every project manager has used their own excel spreadsheets for estimating. Since then, our boss has purchased Pro Est. A few people got on board when we first bought the software, but most found it difficult to use and it also did not easily integrate with our accounting software. Essentially everyone has resorted back to using their Excel spreadsheets to bid 100 million dollar jobs."
The point of investing in software is to move your company forward, not backward. If you have purchased estimating software that no one is using, this is a big red flag that it's time to find something else.
Your Software is Getting Sunsetted and is no Longer Supported
Guys, this is a really big deal. Old systems like WinEst and Sage were good while they lasted; however, if your software is getting sunsetted, you need to start shopping around now! And we mean NOW!
Imagine this…No new features. No fixing bugs. No help when it crashes. No new versions. This is the worst-case scenario. You'd be dead in the water. Do you have a backup plan if this happens?
It was Bought out by a Huge Conglomerate
An estimating software that was bought out by a big well-known name can sound attractive at first. Naturally, you'd think that a big company comes with the big money to support the software. But in actuality, the more the big company acquires, the less time they have to devote to providing a higher level of support to you. And though they have the means to keep the system updated, their focus is on acquisition, not partnering with you to provide the best product customized to your needs. Unfortunately, when big tech companies buy out the small ones, the product suffers.
"Beck Technology is a true partner—always flexible, quick to answer our questions, and great to work with." —Dale Schneider, Preconstruction Director, Saunders Construction
Lacking Innovative Features You Need to Stay Competitive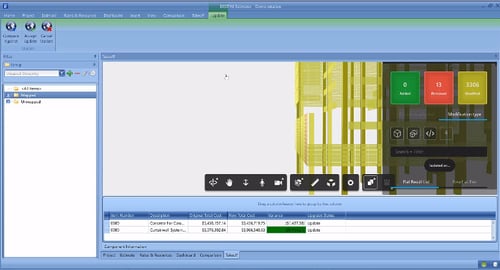 We've learned a really rough lesson in the last few years and that is that the world changes, sometimes drastically, and then, so do your processes. It's going to be a deal breaker for many potential new hires if your current system/systems aren't accessible via the cloud or web. Estimators are now leaving the industry or flat-out refusing to stay or join a company that doesn't recognize the value of work/life balance and the hybrid model working environment.
A 2021 survey of over 150 owners conducted by Building Design & Construction found that overwhelmingly owners are looking for general contractors that offer "new ideas, and lean toward AEC firms that lead them to cutting-edge products, innovations and delivery methods."
If your current software vendor doesn't have a tech roadmap, a shared vision of your future growth, or is continuously working at improving and adding features, then you might become just as stale as your legacy program.
Every Estimator is Doing it a Different Way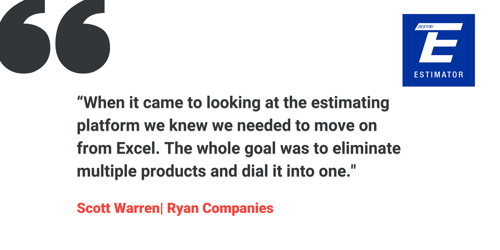 This is such a common phenomenon in precon no one sees it as a problem, but it really is. Multiple general contractors have told us that even though their owners love the work they do, estimates are inconsistent and sometimes look like they don't even come from the same company. It is also time-consuming to train new estimators when everyone is doing it a different way.
Standardizing and centralizing the way your preconstruction department creates estimates means every estimator has access to all your cost history making it easy to compare current estimates with past ones so you can confidently deliver an accurate estimate to owners. It also streamlines and speeds up the entire precon process.
Those with a growth mindset are always looking for a better way to do things and if your current software system is holding you back, it's definitely time to change.
For more on how to evaluate software, we have some expert advice. The following five blog posts will guide you through the process of evaluating new software: