January 10, 2022
How to Evaluate Software Quickly
This is a five-minute read.
We know you've got 99 problems, but time doesn't have to be one of them. Here is your guide on how to evaluate software in only two weeks.
In this guide, you will learn how to find the time to evaluate software by:
Assessing your current process and identifying your biggest problems
Creating a software evaluation task force; whether it is a team of one or ten, recruit tech champions and those who have a stake in the game
Staying focused on the problem you are needing to solve and not getting distracted by the shiny bells and whistles features you don't need
Hi. We're Beck Technology and we've been in the preconstruction software business for over 25 years. We're a company born from the industry, founded by a third-generation construction worker with a passion to revolutionize the industry and change the future. We know that technology applied to the early stages of a project can fix the serious problems experienced throughout the project lifecycle. As one of the first tech companies to develop software specifically for preconstruction teams, we're dedicated to not only making it easier for estimators to do their jobs but also to improving the construction industry. Collaboratively, we can make the built environment safer, more efficient, and above all—more lucrative.
We made it our mission to develop software that captures and leverages cost history data so estimators can produce a better, more accurate estimate and prevent errors and change orders, stay on budget, and better align owners, general contractors, and designers throughout the life of a project.
Though there are plenty of tools out there that help you build estimates—we aren't going to deny the usefulness of Excel—but they weren't made specifically for estimating. Even if they are, those tools aren't made to work together. This means you are manually tracking data (and losing it), manually reformatting estimates, and manually transferring data back and forth between multiple programs. Not only is this time-consuming, but it introduces a high level of risk for error in an already inherently risky industry.
Recognizing the need for a more efficient and informed preconstruction process, general contractors like Korte Company, Sundt, the Beck Group, Frank Dale Construction, Haselden, Ryan Companies, and PARIC Corporation, along with 25 percent of the ENR 200 are transforming the way precon teams are evaluating construction software by choosing Beck Technology's DESTINI Estimator estimating software and DESTINI Bid Day bid leveling software.
We regularly hear from estimators that you just don't have the time to explore new estimating tools. And we completely understand. Our industry is speeding up. Construction demands continue to grow and with that comes increasing pressure to crank out estimates that much quicker. Compounded with unpredictable material costs, labor shortages, fierce competition, inaccurate bids, and alignment issues with design and owners, precon professionals are under immense stress. If we told you we could throw you a lifeline, would you grab it?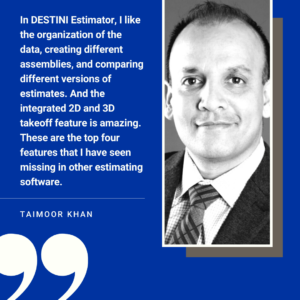 Beck Technology can help you:
Create accurate estimates quicker
Make better project decisions
Improve relationships with owners
All you have to do is recognize that taking the time to look at our software is going to pay off.
Okay, so you probably don't want to hear this, but you are going to have to take the time to save time. We hear you though, loud and clear. And since the way you do it now is (sort of) working, it seems ludicrous to pull estimators away from their jobs to explore new software; however, if you manage your time wisely and take the advice of other forward-thinking general contractors who've successfully made the switch, you will have a new streamlined and accurate workflow that impresses owners and wins projects.
We are so passionate about the importance of improving the preconstruction process and we don't want you to miss the opportunity to be able to:
Automatically capture and leverage data
Apply cost history to current and future estimates
Perform takeoff and build estimates in one platform
Ultimately win more projects
So, we've created this two-week software evaluation guide based on the success of our clients that will help you streamline the software evaluation process and help you make an informed but not hasty decision.
Days 1-2: Identify Your Biggest Problems
Since you work in your current set-up, you, and the rest of the precon team already know your issues and struggles. Take the first two days of your two-week evaluation to document your biggest estimating headaches and how long it takes to perform each task. Ask your team to do the same.
5 issues you should pay attention to:
Time spent searching for information
Where errors and mistakes occur
How much copying and pasting you do to complete a task
Time toggling between tools
How much you manually move data around
Compare the amount of time wasted just gathering all the data you need with how long you actually spend building estimates. You'll be surprised how time-consuming it is to search for what you need when you add the hours up. You could be spending that time on the task that matters most—getting an accurate estimate out to owners quickly.
Choosing integrated software made for estimating like DESTINI Estimator will even free up your time so you can pursue higher-level activities like benchmarking, pursuing more projects, and value engineering.
Days 3-4: Establish a Software Evaluation Team
Some of our most successful customers created software evaluation teams when they started exploring new preconstruction tools. This can be made up of one person or many. A senior estimator and MC2 administrator at the Korte Company took the lead when they decided to make the switch. He developed a ranking scorecard based on important features including database, takeoff, and maintenance of each construction estimating software available. This single point of contact didn't take time away from anyone else.
To help during the evaluation process, we made a scorecard for you! Download your software evaluation form here.
Balfour Beatty developed a software evaluation team made up of "subject matter experts" from each office, including precon leadership, IT, and stakeholders. This task force helped free up time for other team members.
Day 5-10: Stay Focused
This is when you will get down to the nitty-gritty of each estimating software on the market. After narrowing down which software you want to evaluate further based on features and functions, useability, and support and implementation, you will spend time getting to know the software and vendor.
Don't know what to look for when evaluating software? Click here!
Request demos of each software and spend time asking every single question you have, even if the question seems stupid or obvious.
It can be easy to get distracted by all the extra features a software offers; however, the Vice President of Preconstruction at Frank Dale Construction says it is important to remain focused on how well the software solves the problem you have and not be sidetracked or lured by features you don't necessarily need, even though they may be neat.
Click here for all your software evaluation resources in one place.
Getting to Know Beck Technology and the DESTINI Suite of Products
Our thorough approach to the exploration process of DESTINI Estimator is based on each potential client's needs. We don't come at you with a one-size-fits-all demo. We like to get a full understanding of your team's current process and problems, the differences between regional offices, and what you want to accomplish. The Director of Preconstruction at Layton Construction says, "The exploration kind of ended up being a collaborative session where we learned the software, and at the same time, we gave feedback that was then implemented. They [Beck Technology] went back and rewrote the code and made it better, and we truly appreciated that."
We understand how laborious your current process is and how daunting it can be to evaluate and switch software, that's why we have written plenty of guides and held many webinars on how to make the best decision when choosing new construction estimating software.
If you want to learn more, read the following blog posts: