April 30, 2021
Beck Technology Donates to Children's Health Dallas
As a preconstruction technology company, it is our mission to make not only the preconstruction industry better, but also the lives of our customers, employees, and communities. Considering that, we've established three core values—passion, innovation, and caring—and encourage our whole team to live out these values in all they do.
In 2018, Beck Technology established the Beck Tech Cares initiative, in which one employee is selected each month to choose a local charity or nonprofit that the company will then donate to on their behalf.
During each month, through one of our project management tools, we give each other virtual "high fives" to recognize and thank our fellow coworkers each time they demonstrate passion, innovation, and caring. At the end of the month, we meet and read our nominations. One Beck Technology employee is chosen each month to pick which organization will get a donation.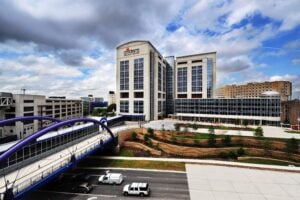 This April, software development team lead Gordon G. was selected as the nominee, and he chose Children's Health in Dallas, Texas.
Children's Health is one of the country's leading pediatric hospitals. Founded in 1913 by the Dallas Graduate Nurses Association as an open-air hospital for babies from poor families, Children's Health now includes two full-service hospitals, an inpatient specialty hospital, and multiple specialty centers. The Children's Health system provides life-changing treatments, innovative technologies, and ground-breaking research for children.
Gordon says he picked Children's Health because, "My friends and neighbors' son was diagnosed with cancer last year, right as the pandemic was getting underway. Through them, I got a glimpse of how important and impactful the people at Children's Health are to the families going through really scary health challenges with their children. These doctors are nurses (and the teams behind them) literally save lives, but they also are a huge source of support and comfort for these kids."