April 02, 2021
Why You Should Switch from Sage to Estimator
Is DESTINI Estimator Better Than Sage?
Do you feel like your department is on the back burner because you're using preconstruction estimating software to satisfy your accounting department?
Many of Sage's tools are designed for accounting departments, not estimating. Sage Estimating does offer conceptual estimates and cost data; however, it does not eliminate the need for other tools. Estimators working in Sage are still also working in Excel, and another platform that offers takeoff. Toggling between tools and trying to make things work between software that isn't designed to work together takes too much time and doesn't guarantee the accuracy of your estimate.
Preconstruction teams are the ones who win projects for the company so shouldn't you get your own choice of construction estimating software? Simply put, estimators should choose the best preconstruction software made for estimating.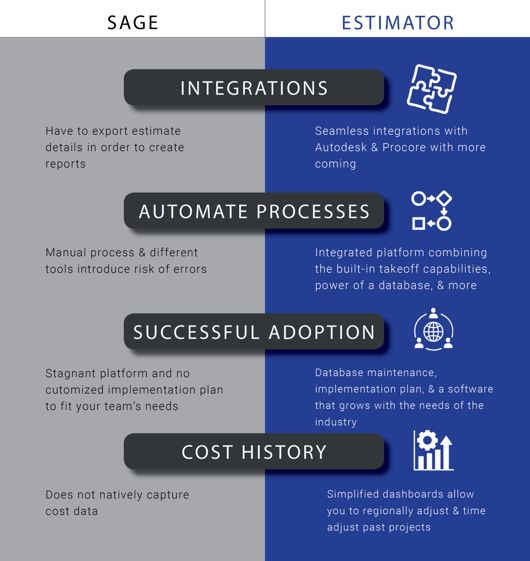 If your preconstruction software is Sage, then you're wondering why your team is investing in software not made for estimating.
DESTINI Estimator gives you:
Fewer steps resulting in greater efficiency with custom reports made from estimate
Integrated tools allowing for automated processes
Complete and custom implementation
Made for estimators, not accountants
Interested in booking a demo to see why you need estimating software, made for estimators? Click below!