November 22, 2022
The Power of Estimating Software Integrations
A truly innovative estimating software can't live within a vacuum. Without feedback and partnerships with other industry peers, it's that much easier for software to stagnate and become outdated.

At Beck Technology, innovation has been one of our core values since our founding in 1996. As a result, most of our major milestones have been a result of key partnerships with clients and other preconstruction software vendors. Our flagship estimating software, DESTINI Estimator, was born out of a collaboration with our client Sundt Construction, and today DESTINI Estimator integrates with several other powerful preconstruction tools, including Autodesk's BIM 360, Procore's Financials, and Togal.AI's takeoff software.

These partnerships help give us fresh insight into routine problems, and more importantly, bring greater value to existing and future clients. But don't just take our word for it. Join us on a deep dive as we explore one of DESTINI Estimator's latest integrations, Togal.AI's takeoff feature.

Takeoff As It Was
At Beck Technology, innovation has been one of our core values since our founding in 1996. As a result, most of our major milestones have been a result of key partnerships with clients and other preconstruction software vendors. Our flagship estimating software, DESTINI Estimator, was born out of a collaboration with our client Sundt Construction, and today DESTINI Estimator integrates with several other powerful preconstruction tools, including Autodesk's BIM 360, Procore's Financials, and Togal.AI's takeoff software.

These partnerships help give us fresh insight into routine problems, and more importantly, bring greater value to existing and future clients. But don't just take our word for it. Join us on a deep dive as we explore one of DESTINI Estimator's latest integrations, Togal.AI's takeoff feature.
Takeoff As It Was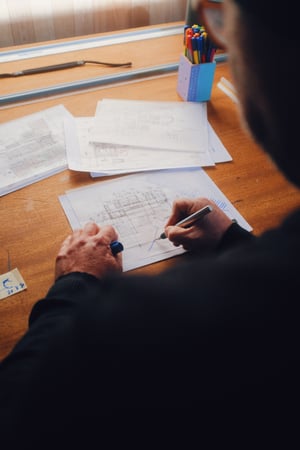 Back in the "old days" – you know, when dinosaurs roamed the earth – takeoff was completely manual. We're talking entire sketches on any available surface (does 'napkin sketch' ring any bells?) As the construction industry continued to advance, so did the tools we use.
Most of these tools were focused on operations rather than preconstruction. Consequently, even when software was developed to try to automate takeoff, the end result was still extremely clunky and disjointed. Johnny Maghzal, Head of Development at Togal.AI, said it best in his Precon World session: "[As an estimator], I spent too much time in On-Screen and Bluebeam clicking, clicking, clicking, and dragging – and not even thinking."
Spending time on burdensome tasks is one thing. Unfortunately, because takeoff has historically been so disconnected from the rest of the estimating process, it tends to be ripe for inaccuracy. And constantly going back to double-check data only adds more hours to an already arduous process.
Takeoff As It Should Be
DESTINI Estimator was developed specifically to automate these types of time-consuming tasks and enable estimators to refocus their efforts on higher-value activities. In that same Precon World session, Johnny pointed out, "People fresh out of four years of school don't want to spend their time clicking and dragging, they want to use their brain, they want to communicate with trade partners, and they want to learn from their seniors how things are built, not really coloring and tracing."
This approach is exactly why we decided to partner with Togal.AI to expand the capabilities of the 2D takeoff feature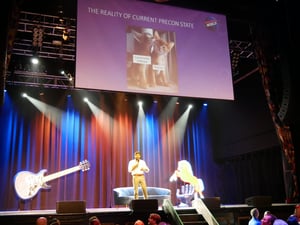 in DESTINI Estimator. Much like Beck Technology, Togal.AI was founded by people from the construction industry who understood that the biggest challenges facing the industry could best be solved by addressing them before they ever got off the ground – in the preconstruction phase. Togal.AI's founders decided to focus on one specific part of the preconstruction process, the area where they saw the greatest amount of inefficiencies and lost hours: quantity takeoff.
However, although this partnership is exciting for us and a great value-add to current and future clients of DESTINI Estimator, it's not always easy to see it that way. Many people share the legitimate concern that technological advancements spell doom for their jobs. Will machine learning – which is what Togal.AI uses to make quantity takeoff so fast – replace me? Johnny sat down to speak with Mike Boren, Beck Technology's CTO, to discuss how artificial intelligence-based automation is an enhancement, not a replacement, for estimators everywhere.
What's So Great About DESTINI Estimator's Integration with Togal.AI?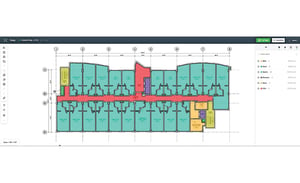 Togal.AI's takeoff tool allows users to send a set of drawings that will then be analyzed and automatically interpreted by Togal.AI's machine learning. Togal.AI then generates the resulting 2D quantity takeoff from those drawings. Of course, many estimators want to know how they can trust the results they're getting. While automation is a step up from having to do everything yourself, machines aren't always perfect.
To that, Johnny responds: "Short answer: trust will come with usage and time. That being said, even though we are sure that trust will come with time and usage, as a software vendor we make sure we're doing a great job of building a good user interface and experience for the user, to make them feel that this tool we are building is still accommodating them. For example, we make Togal as a product so flexible that the user can do any kind of takeoff they want. We don't give them an out of a box product they cannot manipulate or change. We're so into this idea of augmentation rather than only automation."
What does building trust through that user experience look like? Johnny gives an example that at the beginning of Togal's development, its output in terms of area was incredibly accurate, but sometimes the lines could come out a little wobbly in appearance. That one visual effect made estimators feel uncertain about Togal's outputs. So, the wobbly lines were cleaned up, and as a result of that experience the developers at Togal do everything they can to ensure that both the data and its appearance bring confidence to users.
The other question that Togal regularly gets is, "Is your takeoff tool really more efficient?" Although Togal can take multiple and quickly generate 2D quantity takeoff, these takeoffs still require some minimal cleanup on the user's end. Johnny explains: "Typically, when drawing, it takes a user 30 or 45 minutes to do it. With Togal, we can give you this output in like 10-15 seconds. If we can give you this in 10 seconds, and the user spends three to four minutes on it cleaning, assigning, and doing things like that, we still think that we brought a lot of efficiency."
As exciting as all that time saved is, it can understandably cause estimators to worry that tools like Togal are so efficient that they'll end up taking over jobs. But Togal's developers don't want it to be seen as a replacement. Instead, they view it as a tool that can take estimators to the next level – to become "super estimators." Johnny adds: "There is so much art in estimating, that we sometimes don't appreciate as estimators our skills and how much knowledge there is in the human brain that is not on the drawings. A lot of assumptions are not on the drawings. We want the estimator's knowledge; we just don't want them to spend time click-click-clicking and dragging – they have a lot of tasks that are more valuable to them."
Want to Experience Integration for Yourself?
If you'd like to hear even more detail about DESTINI Estimator's integration with Togal.AI, you can click here to watch the full webinar. And if you'd rather see things in action yourself, schedule a demo with us today by hitting the button below.