October 17, 2023
Precon World 2023 Wrap-up
Precon World 2023 at the House of Blues in Dallas simply rocked. A record attendance of more than 200 people, 9 different presentations by 18 industry experts, and – for the first time – small break-out sessions on hot precon topics wrapped up a full-day of learning, networking, and geeking out on construction estimating best practices, AI, and software tips and tricks.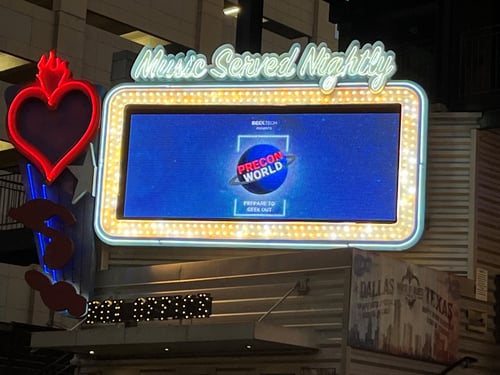 "You can't drive anywhere or see anything in the built environment that does not reflect the fruits of your labor," Michael Boren, Bech Technology's Chief Technology Officer, told attendees in closing remarks after a full day. "The reason we have Precon World in the first place is to bring us together to build a community of preconstruction professionals. And you guys amaze me."
Precon World isn't just about sales pitches and lingo-laden PowerPoints that only DESTINI Estimator users would know. It's a day for preconstruction professionals from all over the country to learn from peers, compare notes on the latest estimating process improvements, to discuss future opportunities and options, and to network. We're delighted so many took the opportunity to learn more about Beck Technology and our mission, which goes far beyond providing software solutions. But if you weren't able to attend, here's where you can catch up.
What You Missed
To start the day, Precon World co-hosts Grant Stucker, Strategic Account Executive at Bech Tech, and John Reich, Customer Success Leader at Beck Tech, welcomed everyone. We'll spare sharing the attempts at humor by Grant throughout the day (mostly very bad jokes about the Dallas Cowboys coming from a die-hard Denver Broncos fan). And, John, who started the morning in cutoffs and a Batman t-shirt, eventually upgraded his wardrobe by day's end (stay tuned).
Stewart Carroll, President at Beck Technology, struck the perfect note with his welcoming remarks and the announcement of three special awards. Beck Tech's Customer Excellence Award was given to Jennifer Kolp, Senior Estimator at VJS Construction Services, surprising her greatly. And the Customer Vision Award was given to Truebeck Construction with Jim Murphy, Preconstruction Executive at Truebeck, and Kalie Ward, Preconstruction Executive at Truebeck, receiving the award on stage.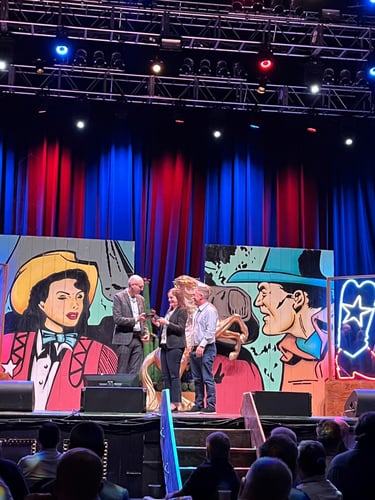 Stewart also recognized major Employee milestones at Beck Tech—25 years of employee service each by Michael Boren and Doug Maiden, Customer Success Specialist. With heart-felt applause, a stirring rock-n-roll soundtrack, and a caffeine boost, the day was off to a strong start.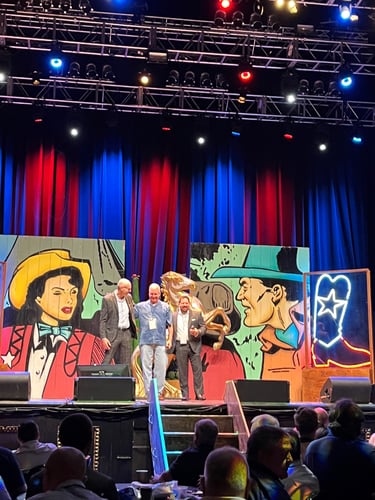 First up, John introduced Christopher Reeder, Preconstruction Technology Manager at Brasfield & Gorrie, and Garrett Cleveland, Assistant Preconstruction Manager at Brasfield & Gorrie, for their presentation on the ins and outs they use in developing their production-based estimating lifecycles—from strategies to quantities to analysis. "I'm also a therapist," Christopher half-joked about emergency calls from work colleagues. "People call me up when things aren't going well."
Next, a Precon World favorite presenter, Johnny Maghzal, Head of Product Development at Togal.AI, returned to give a fascinating, updated look at the latest trends in precon and at Togal—notably the expanded use of AI, ChatGPT (and derivatives), and new emerging software that allows multiple precon professionals to work simultaneously on the same takeoff in real time.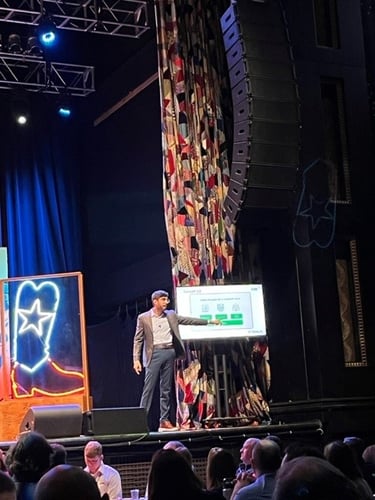 When it comes to AI, precon professionals should focus on how AI serves as "augmentation" to improve estimation software and not the "automation" aspects of AI, which seems to be all the hype. Wrongly deployed, some AI applications, such as solely Internet-based ChatGPT, "can hallucinate nonsense," Johnny said. He offered three-steps to better tech strategies:
Figure out your process.
Have empathy for the end user.
Trust that the technology will follow to serve internal and external needs.
Following a short break, the first of three 30-person breakout groups met in a nearby small conference room to discuss their favorite DESTINI platform tips and tricks (a session repeated in the afternoon). A second small-group breakout session was held in the afternoon on bidding strategy and techniques.
To round out the morning sessions, three power-house presentations were held: the Power of Dashboards (Jim Murphy, Kalie Ward, and Jarred Hall, a Senior Data Engineer, from Truebeck Construction); Prequalification in Preconstruction—the Integrated Technology Stack (Michael Ho, CEO of Bespoke Metrics); and Employing Downstream Information for Cost History (Traci Bower, Senior Estimator/Planner at Clark Construction Company). Traci brought props on stage to help illustrate some of her techniques—things like a "magic" wand and a portable dart board with velcro that hangs on an office wall. Risk management made her ditch the real dart board, she said.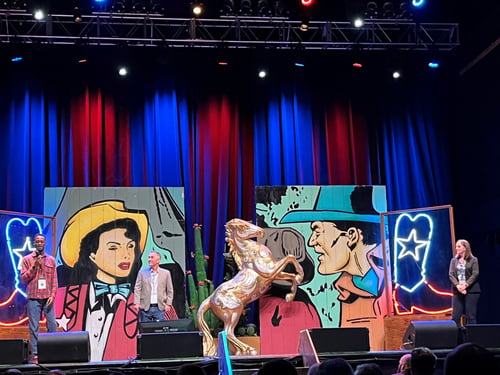 Wait, There's More
Following a delicious lunch of Texas barbecue brisket, baked mac n' cheese, grilled chicken, vegetables and salad, with cheesecake or bread pudding for dessert, the afternoon at Precon World began with some passionate and personal presentations.
Garrett Vance, Industry Specialist for Join, shared his views on the importance of predictable deliverables in enhancing your OAC experience. He guided the group through the world of SOPs, showcasing how their implementation can finely tune operations, accelerate the onboarding of new team members, mitigate unnecessary risks, and elevate the effectiveness and seamlessness of OAC meetings.
"Consistency is a quality all of its own," Garrett said.
Up next, another Precon World presenter favorite, Taimoor Khan, Vice Present-Preconstruction at Satterfield & Pontikes Construction and an adjunct college professor, spoke on developing the next generation of precon professionals.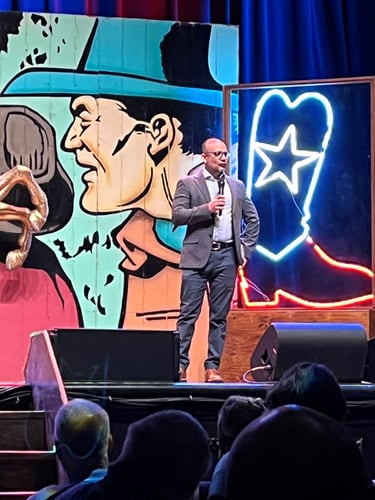 "You can have the best people in the world, but if you don't have the technology, your talent will not matter," he began. Taimoor emphasized his belief that "preconstruction is where you build relationships." And relationships, he said, begin with mentoring new professionals not only in technology but in soft skills—skills such as communication, teamwork, creativity, adaptability, problem-solving, work ethic, critical thinking, and conflict management.
That's a Wrap
The final two presentations of the day focused on the nuts and bolts of customer success. Andrea Schramm, Senior Estimator at Skanska, and Kristin Vrana, Senior Implementation Specialist at Beck Technology, discussed implantation "lessons learned" from the end user's perspective. Their presentation was chock full of tips for the end user, starting with creating an implementation team of between 5 and 8 users who have a positive attitude, are construction and software literate, and who are going to be end users themselves.
The last formal presentation of the day, "Inside: Out – Framework for Successful Change," featured Jan Michael Beran, Senior Implementation Specialist at Beck Tech, and Matt Hammer, Chief Estimator at Haselden Construction. They emphasized what they called "purpose driven change" – change focused on why change is being made; avoiding difficult traps that can stop change; and empowering individuals in the firm to own their piece of the change-making process.
"We don't change things, we change people," Jan said.
Added Matt: "People make the change possible."
For final remarks, Bech Tech CTO Michael Boren summarized highlights of the day, reminded folks that Beck Tech will close the year strong with six additional releases, thanked the industry precon professionals who made presentations, and delivered a heart-felt shout out to the team at House of Blues who made the day so enjoyable.
The final presenter was John Riech – now dressed in a formal tuxedo – who issued an invitation to the final Precon World 2023 closing reception at the aptly named Foundation Room at the House of Blues.