April 05, 2023
Beck Technology Launches Precon Geeks Preconstruction Podcast
Beck Technology, a preconstruction data lifecycle company and developers of innovative preconstruction software, launched its in-house preconstruction podcast, Precon Geeks, on March 9, 2023.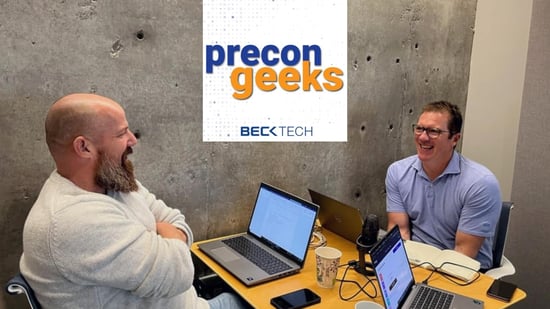 Why launch a podcast now? Because precon is a neglected but essential part of the construction process. As the foundation of the built environment, estimators and preconstruction teams can make a significant impact on how buildings can positively improve the communities they service.
To say that preconstruction is an important job is quite an understatement. As a company born from the construction industry whose mission is to revolutionize the industry and create the future through providing the tools to preconstruction teams that allow better decisions to be made, we understand the nuances, challenges, and rewards precon brings to the people who work in it. But precon and cost estimators don't get the recognition they deserve. Out of the hundreds of thousands, if not millions of resources for construction workers, there isn't much for those in precon.
In the sea of over two million podcasts, we can find only one devoted solely to preconstruction—our friends over at NICHE SSP host The Preconstruction Podcast and now there is ours, Precon Geeks.
Beck Technology's products serve a niche market, but it is our philosophy as a company to not just serve through our solutions but to also serve those who use our software. And that means listening, understanding, and supporting all aspects of an estimator/preconstruction professional's career. On Precon Geeks we talk about the things other people aren't—the realities of risk, salaries, job burnout, and the struggle of finding good candidates to fill empty positions.
We also talk about how rewarding a career it is and how to become a better estimator. The Precon Geeks hosts Jared Draper and John Reich come from a background in construction and preconstruction respectively and talk candidly about their experiences and what they are currently hearing from other GCs.
Tune in to Precon Geeks every week to hear about the latest trends in precon technology and construction, interviews with experts and insiders, and to nerd out on all things precon.
Precon Geeks is streaming now on Spotify, Apple Podcasts, Amazon Music, and Google Podcasts.