March 15, 2023
Interview with Chad Ricks, Estimator at Macallan Construction
Estimators are problem-solvers and data visualizers. They're some of the first to handle cutting-edge technology, and the role that they play goes on to set the course of entire projects.
As a preconstruction software company, we're fiercely dedicated to helping people realize that estimating should never be underestimated. We especially want to make that clear to people who might not have considered a precon career otherwise. It's for that reason that we're focusing on shining the spotlight on some of our clients, giving you a closer look at what being an estimator is actually like. So, keep reading to hear from Chad Ricks, Estimator at Macallan Construction in Marietta, Georgia.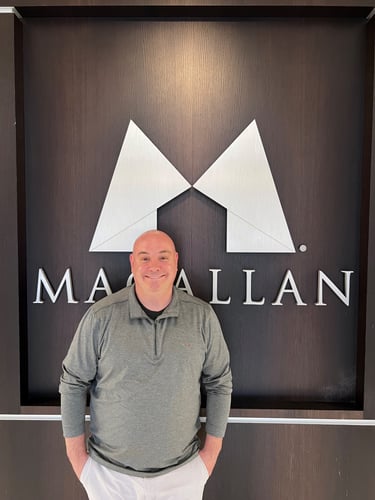 Can you tell us about what led you to precon, and what you love most about it?
So, my family was all in construction—my grandfather was in construction, aunts, uncles, brothers-in-law, sisters, everyone was in construction. From a young age, it was just part of my nature. And then growing up in high school, I was much better with math than anything else, so I knew that mathematics was going to be something that I followed into whatever career I chose. After I graduated high school, I went in and did estimating and project management and everything else, and found that estimating was kind of my forte, based on the fact that I was just better at it and enjoyed it more.
What I like about the precon side of things is the fact that I can answer problems before they even become problems. I can figure out ways to build or price a job aggressively, making some minor changes here and there, and foresee any problems that might come up, which I can go in and address before they develop into something more challenging to solve.
What was it like to go from using Excel for most of your career to using DESTINI Estimator?
The best thing I like about Estimator is that I don't have to worry about sums. One of the things Excel is great at is it does use sums, but the bad part about that is that if you don't have the sums in the right locations, or you start adding line items here and there, sum totals can just become a nightmare. Hard to track down, hard to find problems with them. I don't have to worry about that when I use Estimator. Once I enter in an item, I know it gets transferred over. The fees table is also really helpful—it comes up with all the fees and makes sure that all those are calculable, and if I need to add or delete a fee, it's very easy and simple, whereas Excel can get cumbersome in that area.
Also, adding rows and making them equal out – I don't have to worry about values becoming mixed up in Estimator, I can add a row or subtract a row. I can manipulate it the way I need to, whereas in Excel it takes a lot more work.
What was the learning curve with DESTINI Estimator like?
I'm going to be honest, there is a steep learning curve with DESTINI Estimator. It wasn't the easiest to get started in but having that training course from Beck Tech was a huge help. Once you get into and start using it, then it becomes a lot easier. The more you use it, the deeper you can go, and there's always something new around the corner. I find something new in the software every day. The continuing education is great too and helps me out a lot.
What's your experience been like partnering with Beck Technology?
It's been great! Everyone's been very helpful and knowledgeable in the system, and if the training courses aren't giving us the answers we need, we get passed up to someone [on the Customer Success Team].
What's YOUR road to estimating been like?
As much fun as we had talking to Chad, this is still just a snippet of the full conversation that we got to have with him when we visited Macallan's HQ. If you want to hear the whole interview, click here. And if you'd like to share some of your unique insights on being an estimator, reach out to us at info@beck-technology.com.