December 21, 2022
How to Maintain Camaraderie and Culture When Working Remote
As a tech company, Beck Technology offers a 100% remote working environment. Yet, we serve an industry where working from home is a recent trend.
The construction industry's culture, as a whole, and the lack of industry-wide adoption of modern technology have made it difficult for office teams to work remotely. But policies during COVID forced us all to adapt and once we faced the IT challenges that came with that, many people realized that work/life balance is a real thing, and the flexibility of a hybrid or work-from-home model is something that most American desk workers (83% to be exact) are no longer willing to sacrifice. Estimators included.
There are subreddits dedicated to the subject…
I really would like to keep a couple of remote days in the future. At least two a week. I've been awarded nearly $4m worth of work while working remotely, so nobody can use that excuse.

They finally wanted me to come back so I told my employer I wanted to be permanent full-time remote or at least hybrid. They offered zero flexibility, so I left.

So, yeah, if I had to go back to the office, I'd be looking for a new position.

…they tried to make me go back in full time, so I quit.
Although estimators might have been used to late nights and long hours, more and more precon professionals are opening up about how those long hours impacted their personal lives once they've been given the ability to be more present with their families and friends. Finding ways to perform their work better and faster has been a game changer. But it's not possible without a company culture that supports flexibility.
Company culture impacts your bottom line more than you probably know. Sure, you offer a great product but what drives that product? It's the people behind it. Without happy, engaged, and high-performing people, you get a crappy product. Your company's culture also affects recruiting new estimators, employee retention, how processes and products are developed, and how owners feel about your brand and product. Company culture is kind of a big deal.
With the right tools and estimating software in place, you've figured out the logistics of working from home, so now it's time to focus on growing and maintaining your company's culture. Taimoor Khan, Vice President of Preconstruction at Satterfield & Pontikes says, "we are social animals, so we always need that social interaction with people." Taimoor has been working in preconstruction for 17 years and was remote before working remote was cool. The first remote job Taimoor had was for a contractor out of state. He flew in every other week to work and collaborate in the office. He says, "A lot of managers expect their employees to be in the office 8 to 5, 40 hours a week because they want to see them in the office but if they aren't producing results, what's the benefit of it?" He stresses the importance of demonstrating ownership of your work so leadership trusts you.
Garry Myers of Clark Construction has been estimating for over 40 years. He says their team is spread out and every year hosts a 3-day, off-site retreat to talk about all things estimating and focus on team building.
Even after a couple of years, our clients who offer a hybrid or remote working environment are still figuring it out but also understand the importance of maintaining their company's culture.
Professionals who study this sort of thing stress the importance of:
Focusing on your company's core values

Being mission-drive

Recognizing employees' accomplishments

Establishing solid lines of communication



Focusing On Your Company's Core Values

Your company's core values are the tie that binds. When people find no meaning in their work, productivity and engagement go down. Deadlines aren't met. Careless errors are made. Working from home may make some feel isolated and they forget the greater purpose. To make sure remote employees don't lose sight of your core values, initiate programs that reiterate them.
For us, one of the ways we make sure we are regularly demonstrating our core values of passion, innovation, and caring is through our Beck Tech Cares program and monthly DIBs (diversity, inclusion, and belonging) meetings.
Being Mission-Driven
What is your company's mission? Do you have clearly defined goals and KPIs to drive your mission? How do you communicate the progress of your mission? When working from home, we sometimes can get wrapped up in our own little worker bee bubble. It's easier to eliminate distractions and go heads down when not in the office.
To combat this, Garry and his team have daily check-ins and weekly meetings—cameras on, he stresses—to maintain cohesion. At Beck Tech, we host virtual all-company meetings every week where every department head reports KPI progress, and we share our wins for the week.
Recognizing Employees' Accomplishments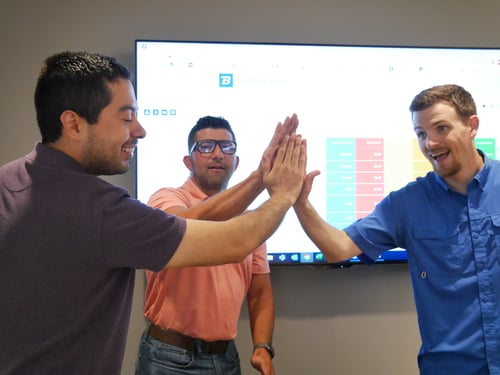 Celebrating wins and recognizing each other's work takes extra effort when working remotely, but it's just as important to keep doing it to maintain your company culture. It can be as simple as an email or a private message to a coworker to tell them "job well done" or it can be as elaborate as purchasing software that allows your employees to publicly acknowledge each other.
Before we went fully remote, sales would ring a gong when they signed a new client. Now, sales will send a company-wide email and we all send our kudos back. It reinforces our mission and our core values.
Establishing Solid Lines of communication
Transparency and communication are vitally important when your team is working from home—not only to prevent feelings of isolation, but also so teams continue to feel connected to each other and to the company. There are many communication tools out there like Slack and Teams that allow you to create multiple channels for your teams to chat individually or as a group.
Like Garry, some of Beck Technology's teams meet once a day for a quick huddle, and we always meet as a company once a week. We have multiple channels on our Microsoft Teams, including random, pets, what we are reading, and what we are making. It's our virtual water cooler.
Don't Forget to Have Fun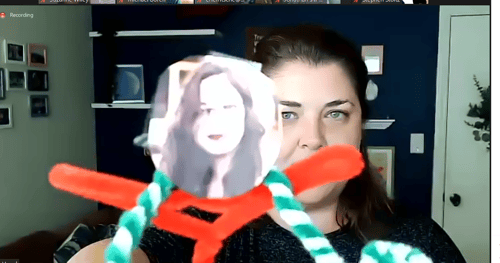 One of the hardest things to transition is the face-to-face fun interactions we have when in the office. Going to lunch together or grabbing a drink when the clock strikes 5. How do you maintain your friendships with your coworkers? Host virtual happy hour, ask someone to meet you for a virtual coffee break, and play online games like Jackbox.
Nick Friedman, President and Co-Founder of College Hunks Hauling Junk, writes in Forbes, "Company culture drives behavior, and behavior drives results in business. A high-value, performance-based culture can help skyrocket an organization, but a negative or inconsistent culture can send it in the wrong direction—which can compound the challenging circumstances many business leaders now find themselves in."
We now have plenty of research to prove the business benefits of giving your people the flexibility to work from home, even if it's just one or two days a week. Culture doesn't stop there, though. With these tips, you can easily maintain your company culture and team camaraderie. To listen to Garry and Taimoor talk about managing remote preconstruction teams, click the button below.