February 26, 2021
Excel Users Switching to Estimator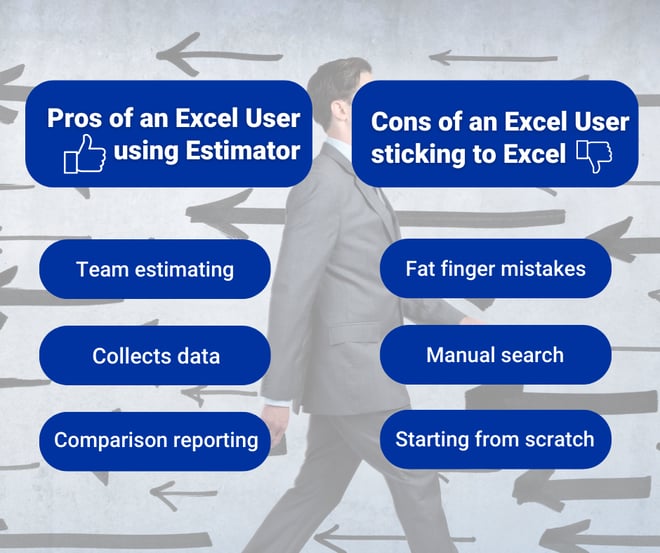 Excel is excellent software for creating spreadsheets and offers flexibility; however, a preconstruction estimator's job demands more than just the equations functionality Excel offers.
If you are dependent on Excel for estimating, you also depend on multiple other tools to complete your estimates. And any time you must juggle multiple software that doesn't talk to each other or integrate, you introduce the risk of losing information resulting in errors on estimates. Not to mention the time wasted on copying and pasting. Time you could be spending chasing new projects and analyzing data to make better business decisions.
Excel doesn't:
Provide a way to capture data as you receive it
Grab a baseline for conceptual estimations
Allow for benchmarking
Explain where quantities come from
Have customized reporting
Further, starting from scratch with each new estimate means you have no way to document and compare cost history. Excel is great for what it is designed to do but has so many limitations when it comes to the needs of preconstruction teams. We think it is time to consider switching from Excel to a robust, fully integrated construction estimating software like DESTINI Estimator.
With DESTINI Estimator, you can:
Standardized one way for all your preconstruction teams to create estimates
Work in one estimate all at the same time
Perform 2D and 3D takeoff
Code common items in databases
Create templates
Analyze cost history
Create customized reports
Adjust owner-required bid sheets
DESTINI Estimator features:
Conceptual estimating
WBS properties, assemblies, formatting, sorting, and filtering
Track all data changes in the estimate, project metrics, takeoff, and versions
Disconnected workflows
Autodesk, Procore, and ConstructConnect integrations
Custom reporting and branding
Includes in-house support
Offers customized training and implementation
To learn all the benefits of switching from Excel to DESTINI Estimator, click the button below.