July 04, 2022
Buildings for Freedom
Construction is about so much more than just creating cool, flashy buildings or experimenting with the latest technology. It's also about impacting communities, encouraging innovation, and telling stories. How exactly does a building tell a story? By providing a place to preserve significant moments in history.
Today, for those of us in the U.S., we are celebrating one of the most exciting moments in our history on the fourth of July, Independence Day! And since that first Independence Day in 1776, there have been countless buildings constructed that stand testament to the ingenuity and rule-breaking spirit of Americans past and present. 
One World Trade Center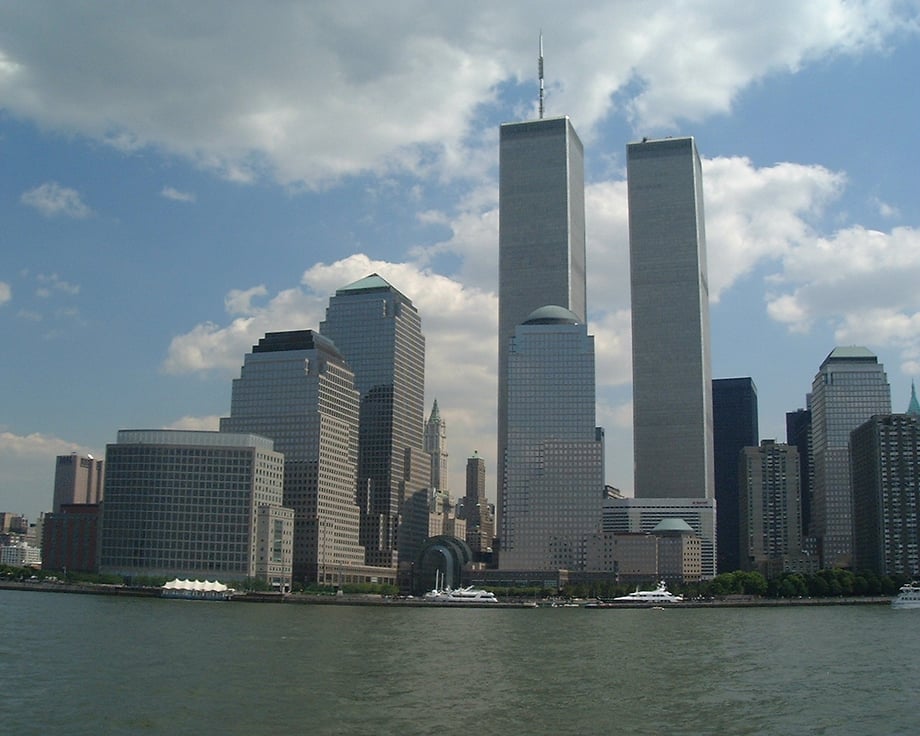 One WTC was flanked by its twin, Two WTC, prior to the 9/11 attacks. They were often referred to as the Twin Towers.
New York City's One World Trade Center, a skyscraper originally intended to house offices and facilitate business, has had several incarnations through the decades. Originally built in 1973, the first version of One World Trade Center was already a massive feat of engineering. At that time, the chosen construction site for the skyscraper was located on a landfill, and the ground was extremely unstable. Engineers would have to dig down seventy feet to reach the sturdier bedrock underneath, while simultaneously figuring out a way to make a waterproof barrier between the nearby Hudson River and the construction site. The engineers would ultimately employ a technique that had been used in Italy and a few times in America, but never on the scale of the World Trade Center. This technique was known as a slurry wall, in which trenches would be excavated, filled with a mix of water and clay—the slurry—and finally cast in a steel-reinforced concrete wall. 
The innovation didn't stop there, though. Thanks to updated methods like the slurry wall, One World Trade Center would become the tallest building in America and the world for about a year before Chicago's Sears Tower overtook it. Nevertheless, One World Trade Center and its twin Two World Trade Center would become striking symbols of America's strength and prosperity, as well as one of the most recognizable structures in the New York City skyline.  
Unfortunately, this came to an end in the tragic 9/11 terrorist attacks, which caused the skyscraper to collapse and spread fires to the other buildings that made up the World Trade Center complex. But it wasn't long before there were calls to rebuild, and in 2004, work began on the new One World Trade Center. While the cornerstone was laid that year, construction was delayed until 2006 due to disputes over money and wouldn't be completed until a decade later in 2014. 
 Upon its completion, though, the reconstructed One World Trade Center stood higher than the previous tower at a symbolic 1,776 feet. It houses offices as well as an observatory deck and a PATH (Port Authority Trans-Hudson) transit station known as the Oculus. It retained much of the simple design of the first incarnation—thanks to its floor-to-floor glazing, it intentionally catches and refracts the light from surrounding buildings and the sky to create a kaleidoscope of shifting colors. It also has an extremely high U-value—a measurement used to determine thermal transmittance—that has helped it earn an LEED Gold rating. Inside, it boasts dramatically high ceilings that allow for plenty of natural light to make the working experience of professionals more enjoyable.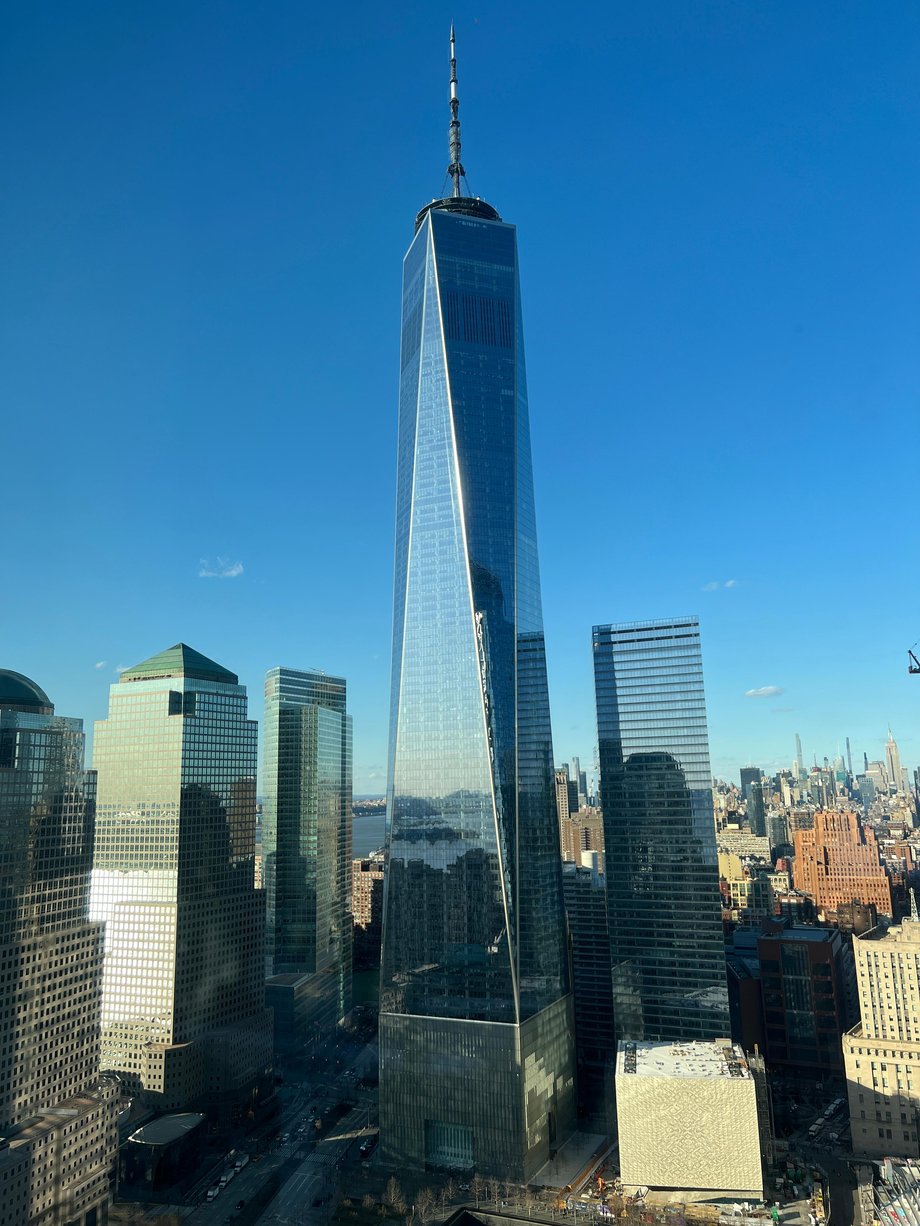 The rebuilt One WTC was meant to stand even higher than its previous version, and was specifically designed to stand out on the NYC skyline by refracting light from both the sun and its neighbors.
Today, the One World Trade Center stands not just as a hub for the day-to-day needs of business and commuting, but also as a reminder of what the American people suffered and overcame.  
Ashton Villa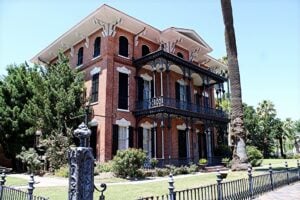 Ashton Villa as it exists today.
Though not a flashy, multi-story skyscraper like the One World Trade Center, Ashton Villa is significant for so many more reasons. Ashton Villa is a historic home located in Galveston, Texas, and it was built at a time when Galveston was a booming port of commerce. Commissioned by a well-established merchant, it was inspired by architectural pattern books and was one of the first brick buildings to be constructed in Texas. It was built by both European craftsmen as well as slaves in a Victorian Italianate style, and was named after an ancestor who had fought in the Revolutionary War. Despite being built by slaves, ironically it would end up as a beacon of freedom. 
But before that happened, Ashton Villa became the headquarters for the Confederate Army during the American Civil War of the 1860s. Just a few years later, it would be taken over by the Union Army, and on June 19, 1865, Union soldiers walked through the city of Galveston to announce the emancipation of all slaves. That day would go on to be known as Juneteenth, a day of celebrating true freedom for everyone regardless of race or creed.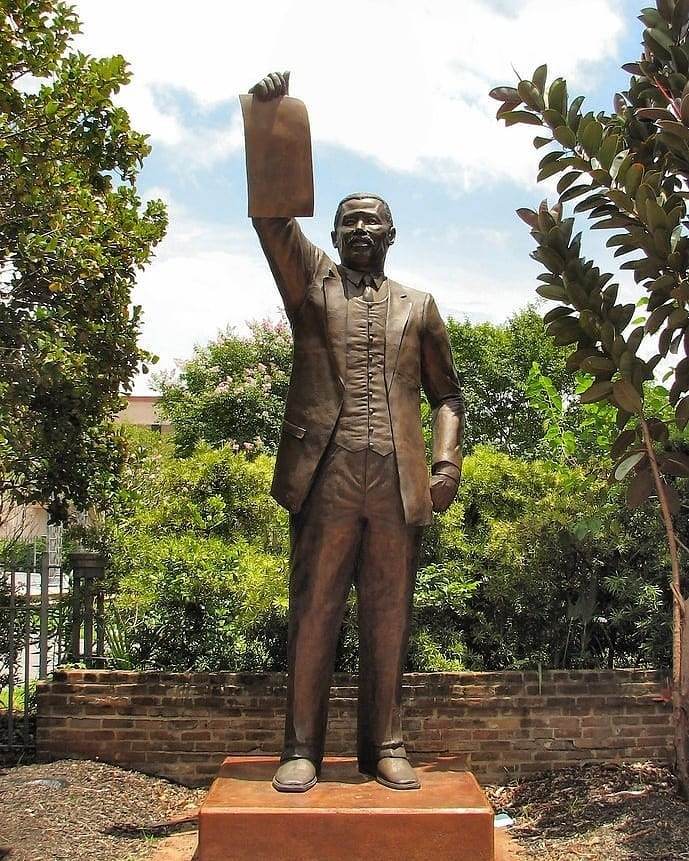 Erected in 2005, this statue was placed in honor of State Representative Al Edwards successfully passing legislation that made June 19th a Texas state holiday.
The house was also one of the few to withstand the battering of the Great Hurricane of 1900. Almost a century later in 1974, it became a House Museum —the term used for a residence that has been transformed into a museum—in addition to offering a visitors' center and rooms that could be rented for events. It remained a hub of history up until 2008, when Hurricane Ike caused significant damage. After restoration, Ashton Villa closed to the public, although its first floor remains open for private bookings. 
Ashton Villa is an incredible testimony to the contradictions of America's past. Even while there was massive injustice, there was also the desire to make the iconic phrase "liberty for all" a reality for every American, and Ashton Villa's journey from Confederate HQ to the site of the first ever Juneteenth celebration is a beautiful picture of justice prevailing. 
The White House
You couldn't have an article about buildings that have left a legacy of freedom without talking about one of America's greatest architectural icons, the White House. 
Before the White House served as a home for the president and his family, it began as a sketch on a paper and a cornerstone in 1791. Due to a number of reasons, including an attempted burning, the White House took almost a decade to finally become livable. Although it was suitable to work and sleep in, the White House at that time was not particularly impressive. A Russian nobleman visiting the U.S. commented in 1845, "the home of the president…is barely visible behind the trees…not at all conforming to the expectations of a European." 
It wasn't until 1948 that the White House would take on the appearance it's known for today. Upon being told that it was structurally unsound, President Harry S. Truman kept the exterior walls intact but had the entire interior rebuilt. Designed in the neoclassical and Palladian styles, its columns and porticos were meant to evoke a sense of grandeur and nobility without being overwhelming.
In the 1960s the White House truly came into its own thanks to the efforts of First Lady Jacqueline Kennedy, who began developing an art collection during her time at the White House. She would broadcast tours of the interior on television, which helped spark "public interest in its beauties."
Today, the White House is a mansion with 132 rooms and 6 levels, with the ability to entertain over a thousand guests. It is at once a home and a living museum—and it is also the only private residence of a head of state that is available to the public. It's a reminder that the White House doesn't belong to the president, but rather the people. 
Susan B. Anthony Museum and Home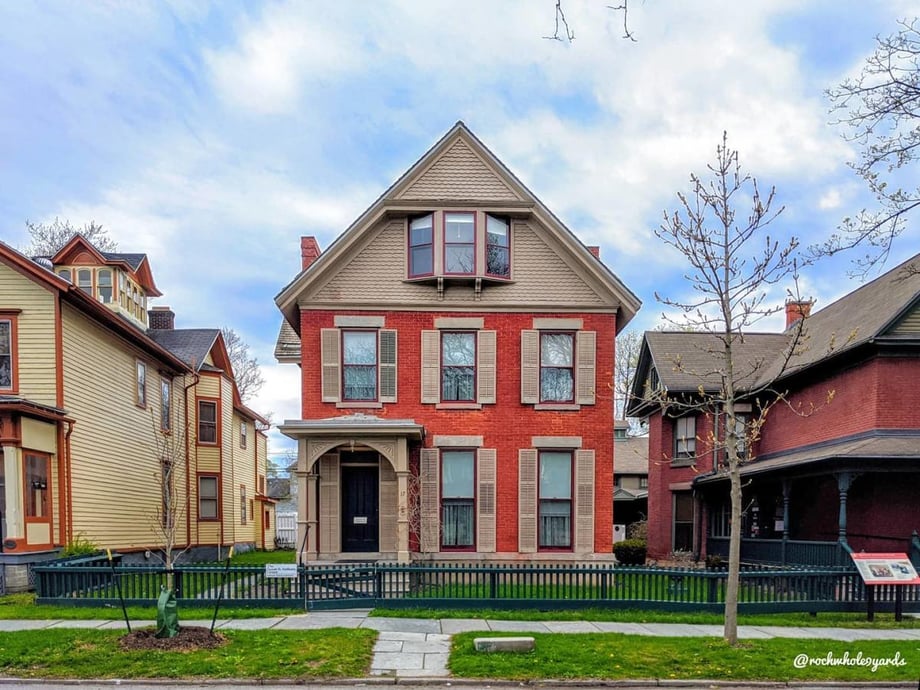 The Susan B. Anthony House and Museum is located in Rochester, New York.
The Susan B. Anthony Museum and Home is another incredible example of the American pursuit of liberty, a pursuit that probably couldn't have happened without this building to facilitate it. Built in 1859 by a local dentist, the Rochester, New York house was designed in a similar fashion to the Ashton Villa in the Italianate style and intended for middle-class families. In 1865, it would become home to Susan B. Anthony and her mother and sister. Anthony was already a passionate activist at the time she moved in, being involved with the abolitionists' and women's rights movements. She was elected president of the National American Woman's Suffrage Association shortly before moving, and her house then turned into the organization's headquarters. 
Anthony transformed the house's first floor parlors into public offices and used the guest rooms for mail in 1894, and the year after that, she added a third story that came complete with a workroom so she could research and compile the History of Woman Suffrage. The house would also serve as a witness to one of Anthony's most famous incidents—she was arrested in the front parlor for illegally voting in the presidential election of 1872. 
After Anthony's death in 1906, the house was sold to one of her colleagues, the president of the Council of Women. It would remain with that family for forty years before being sold again to another family and briefly turned into a boarding house. Finally, in 1945, it was purchased by the Rochester Federation of Women's Clubs to start the process of turning it into a museum and historical landmark. It remains open to the public for tours today.  
What Buildings Are You Inspired By?
We hope that this overview of some of the most significant buildings in U.S. history reminds you that buildings aren't just brick and mortar—they have so much more to say.