December 28, 2022
Beck Technology Gives to Movember
Over 50 percent of men don't like to talk about their health.
It's no surprise then that about the same percentage don't go to the doctor unless they have a serious medical condition.
Men are more likely to get diagnosed with cancer than women.

Men are more likely to die from cancer than women.

Men are more likely to commit suicide than women.



Prevention and knowledge are key, yet that requires men to talk about their health. Or maybe it's easier to grow a mustache and let the 'stache be the icebreaker. No-Shave-November or Movember has been a movement to raise men's health awareness since 2003 when two buddies—Travis Garone and Luke Slattery—decided to challenge 30 of their mates to grow a mustache to bring awareness to men's health and more specifically, prostate cancer.
The Movember Foundation became an official charity in Australia in 2006 focusing on men's mental health, suicide prevention, and prostate and testicular cancers. A year later, the foundation expanded outside Australia and now operates in 21 countries, raising over 730 million Australian dollars and has funded over 1,250 men's health projects worldwide.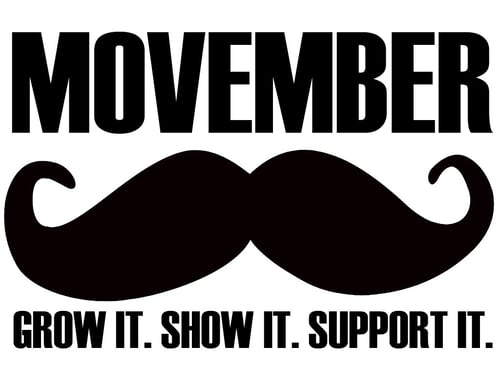 There is one word that describes Travis' and Luke's drive to grow their idea so quickly and that word is passion.
As passion is one of our core values, we are always humbled when we can donate to a charitable organization that believes in making the world a better place as we strive to do. That is why it is our honor this month to donate to Movember.
Every month, Beck Technology donates to a charity of an employee's choice through our Beck Tech Cares initiative. Each month, one employee gets to choose a cause they are passionate about to which Beck Tech provides a monetary contribution.
Ted Solomon, Beck Technology Implementation Specialist, chose Movember. Ted says:
Movember is one of the premier organizations promoting and raising funds for men's health.  Men tend to have a hard time discussing issues and symptoms related to their physical and mental health.  Catching cancer early and addressing mental health can help more men survive extremely curable, often undiscussed, ailments. In college, my fraternity and I would grow our mustaches to start the conversation about men's health.  I have also seen a number of my family members battle the cancers that Movember helps to fund research for. I have also seen firsthand the toll depression, anxiety, and PTSD has taken on my friends, family, and self.
Movember, a nonprofit organization "…is an independent, global men's charity with a vision to have an everlasting impact on the face of men's health. Operating in 21 countries around the world, the Foundation is committed to driving significant improvements for its prioritized men's health issues – prostate cancer, testicular cancer, poor mental health, and physical inactivity. The Movember Foundation achieves its organizational goals through strategic funding of research and health programs. Currently, the Movember Foundation funds over 1,000 programs and projects around the world, directly through the Foundation and via Men's Health Partners in some countries. Movember's major funded programs address critical challenges in men's treatment and care, and in their mental health and well-being."
To donate or participate in many of the different Movember programs, click here: Movember - Changing the face of men's health - Movember