March 31, 2017
A Day in the Life of a Quality Assurance (QA) Manager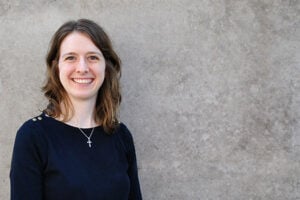 Stephanie Greene Bardales, a Quality Assurance Manager at Beck Technology, spends her days ensuring DESTINI products perform at the highest standard of preconstruction software.
What does a quality assurance (QA) manager do? If I answer sarcastically, I would say that I spend my days assuring the quality of Beck Technology products. The actual answer is that to ensure our products are operating as they should, I spend my days exterminating software bugs and testing new product features, working with a variety of departments and an international team daily.
Working Before the Workday Begins
I start every morning in collaboration with a team of people from a different country, culture, and continent. There is a 10+ hour time difference between Dallas and our Testhouse testing team in India, so our daily, morning Skype meetings start at either 5:45 a.m. or 6:45 a.m. for me, depending on Daylight Savings Time. The photo shows five members of our six-person Testhouse team and me, on the television screen, Skyping in from my apartment.
While most people might dread the idea of getting up so early for a meeting, it is part of what makes my role unique and honestly, fun. During the meetings, we discuss daily activities and address questions that have arisen, using screen sharing to easily communicate functionality. We also review our project progress. Currently, we are determining a strategy to test DESTINI suite maintenance. Depending on the schedule we've blocked out, these meetings can last anywhere from 15 minutes to more than two hours.
After we conclude, I usually have extra time to get ready for the day. This morning, I cleaned my apartment, packed my lunch, and went for a run before catching the train to work. The ride gives me time to mentally prepare for the day. I usually spend it crocheting because I like to keep my hands busy. Pictured is my very first flower prototype, which I created on the train ride to the office this morning. Eventually it will be added to the flower bouquet for my upcoming wedding.
Building a Better Software & User Experience
After arriving at the office, I check email and our open issues list. If anything has been reported overnight as a problem, I verify that the error has the correct attachments and reproduction steps and contact the person who reported the issue if I need further clarification. I work often with our Services team to track down details and to identify solutions and workarounds.
I get breakfast in our work kitchen and am in and out of the kitchen for refills of tea many times. Throughout the day I snack on almonds, fruit, or bread; and at lunchtime, I meet up with coworkers and eat the lunch I packed.
A large portion of my day is occupied with testing and checking the functionality of new and existing Beck Technology products. Today I worked with the newest version of DESTINI Estimator. After setting up a new, clean virtual environment to install and test the latest version, I performed exploratory and usability testing to make sure its functionality is robust. I collaborated with developers to verify that the newly created functionality was working correctly as well as identified and created testing files for upcoming functionality. Building off of the work I'm doing with the Testhouse team, I ensured new builds were properly uploaded to our internal collaboration tool, Box, for their access and reviewed the new functionality test cases they had created.
Communication and Miscellaneous Tasks

As a QA Manager, I'm in constant communication with numerous teams. I act as the go between for our developers and the Testhouse team, helping the developers update new feature requirements then proceeding to relay those changes to the Testhouse team. If there are any outstanding questions from the morning QA meeting with Testhouse, I like to get those replies sent ASAP. Today, I also sent out my monthly forecast and expectations to Testhouse.
Because development projects and issue tracking are two sides of the same coin, I took time to research and test different tools we can use to improve the communication process between development project management and issue tracking software.
Not everything is work, work, work all of the time, though. Today, I managed to squeeze in some time to read Drive by Daniel Pink. This is the book we are currently reading for the Beck Technology book club meeting. That's right, we have a book club! Did I mention I love my job?
My role as QA Manager for Beck Technology is critical to the production of quality products. I'm part of the "first line of defense" against bug fixes and a proactive member of the offensive team that creates and tests functionality. Every day on the job presents a new puzzle to solve and options to explore. My mornings may start early, but I wouldn't have it any other way.
You can view the latest video update on what Stephanie and her team have been up to here.