January 12, 2021
Trends in Preconstruction for 2021
We anticipate four big preconstruction trends happening in 2021. These trends will continue to push the importance of preconstruction while also providing clarity for construction projects.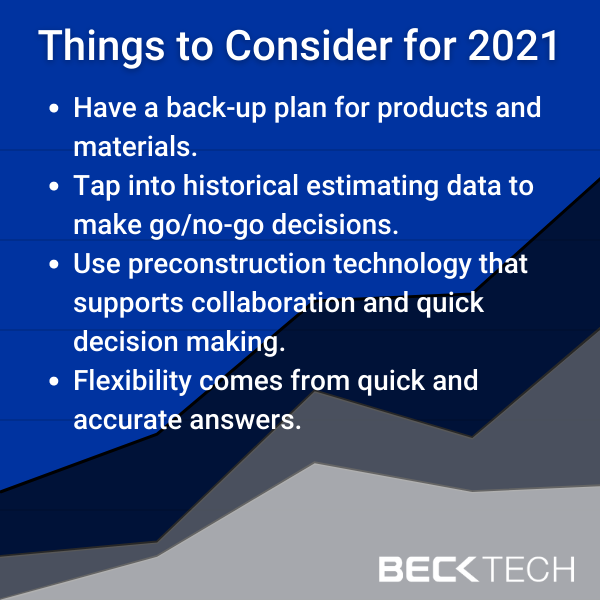 Alternatives in the Supply Chain
When COVID-19 restrictions hit, the world economy found itself in a major bind. For preconstruction professionals, that meant supplies that were scheduled to be delivered at a specific price were now in jeopardy. The supply chain for goods and materials in 2021 is still shaky. For the materials being produced, the shipping schedule is extended. If materials can't be produced, then an alternative source needs to be found.
Preconstruction professionals need to calculate flexibility around supply schedules as well as options for material providers. This is a struggle for project managers working on today's construction projects—they're feeling the mounting pressures with the current supply chain squeeze. Preconstruction will be part of the solution for projects going forward—this includes setting expectations for delays and getting creative when the supply chain instability doesn't adhere to a GMP.
Data Rules
Being able to get your hands on relevant data to make quick decisions feels amazing. Some preconstruction professionals have battled with this even when they were able to pour through documents, files, emails, walk over to a co-worker's desk to ask a question, etc. But when most people were required to work remotely in 2020, their tried-and-true way of "mining data" the old-fashioned way became a major headache.
Being able to not only store data in a central location but have it organized and easily accessible will improve the work lives of preconstruction professionals. On top of that, it will also improve communication with project stakeholders. Being able to take that information and show it visually in charts over an extended period of time will give preconstruction employees greater clarity on what to expect on future projects. No one likes to be blindsided—using data to be better prepared for future construction challenges is the easiest business decision to make.
Embracing Technology
Again, remote work environments put a strain on construction companies to modify how preconstruction accesses files, collaborates with peers, conducts bid days, and performs project interviews. Historically, the construction industry has been slow to change but 2020 smacked us all in the face with change management on steroids. Because of those changes, our industry has leaped years ahead of where we would normally see technology implementations.
Embracing the efficiencies of technology is a heavy lift especially when jobs don't stop, more hours in a day don't magically appear, and stressors outside of work absorb our brain space. However, the benefits of technological advancements are good for business, elevates the preconstruction profession, and works towards creating a better construction industry.
Flexibility in Project Pursuits
Residential construction will continue to increase in 2021 as well as healthcare, highways, bridges, water, commercial, and manufacturing construction projects. COVID-19 adjustments have put a new spin on how office spaces will be used in the future with more companies permanently embracing remote work teams.
Funding for these projects will be the needle mover for the construction industry. We foresee infrastructure projects getting a boost from federal funding. Specifically, roads and bridges are in dire need of help across the country. Privately funded work may be affected if corporate tax rates are adjusted.
More hard bids may make their way back into project delivery methods. This is a short-sighted effort by project owners to get the "lowest" price for a project. However, not including contractors in initial project planning actually costs complex projects more due to unforeseen but necessary change orders that were not considered as part of the project start-up.
Preconstruction professionals who are flexible in their project pursuits will place their company in a good spot to win more often. The standout estimators are the ones who can quickly and accurately provide answers to questions while communicating the best possible approach to reducing contingencies. If preconstruction teams are using tools that don't give them this upper hand, then they'll suffer in a growing 2021 construction market.