September 28, 2020
Take Charge of Your Data: Construction Big Breakfast Podcast
If you're working in 2020, you'll know the saying "The only thing that is constant is change" has never been truer. Every day, it seems like there's a new challenge, a new discovery, a new idea on the horizon. The world of preconstruction is no exception. Technology is advancing at lightning speed, and preconstruction tools are constantly evolving and coming out with exciting features and capabilities that might have seemed impossible once. One of the most significant developments is the amount of data that general contractors can now track, as well as the increased speed at which they can measure this data.
But this begs the question: with all of this change, with all of these incredible new tools, how can preconstruction teams begin to identify what will be best for their estimators? And more importantly, even if they are able to track more data in less time, how can they leverage that data for greater goals like winning bids or creating estimate standards? This is exactly what the hosts of Construction Breakfast sat down to discuss at the beginning of the month with Stewart Carroll, President of Beck Technology.
In this day and age, it's all too easy for preconstruction teams to get a lot of measurements and crunch a lot of numbers, but not actually do anything with that data. Some of the reasons for that, Stewart noted, was that in the 1970s there was a shift away from the concept of the "master builder": the idea that all aspects of construction, from architecture to preconstruction to building, should all flow together and ideally be unified in their efforts. But in the 1970s, things started to become siloed, and it was easier for miscommunication to occur between departments, which also meant data becoming unused or lost in the cracks.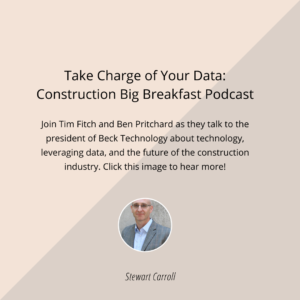 Today, the pendulum has swung. Many general contractors want all of their departments to be able to work seamlessly together, and to track the progression of data from the moment it begins to the moment it ends. Stewart referred to this desire to track data from point A to point B as the "preconstruction data lifecycle." His hope is that his company can be one of the pioneers in helping preconstruction teams to not just track their data, but understand it and utilize it to make better decisions for future projects. Being able to predict trends and complete projects with fewer resources and less time - all of this is critical to the success of a general contractor as we continue moving through the future.
So, if you're wondering where to begin as all of these innovative tools and features roll out into the market, start by asking yourself what you want to be able to do with your data, and go from there.