April 19, 2023
How Preconstruction Collaboration in Healthcare Leads to Growth
Healthcare projects come with a unique set of challenges. Not only is a good program development essential but the team must remember what a significant impact the project has on patients. What makes a healthcare project successful and what role can preconstruction play to help drive that success?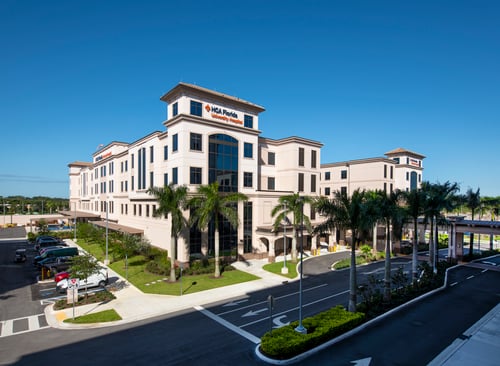 The Associated General Contractors of America (AGC) hosted a conversation between healthcare construction experts Trent Isaacson, Vice President of Preconstruction at Layton Construction, and Douglas Lee, Preconstruction Operations Manager and Vice President at Brasfield & Gorrie with Julie Huval, Head of Marketing at Beck Technology to discuss how collaboration in healthcare leads to growth.
In April 2020, Layton Construction was awarded a multiple-party children's hospital project in Tacoma, Washington. Not only was the project in the throes of the COVID pandemic, but it also hit many other significant hurdles. The precon team at Layton faced significant escalations and the entire team had to rethink the approach to the project. Three years later, ground was finally broken, still on budget and still on scope. This wouldn't have been possible without successfully seeing through an Integrated Project Delivery (IPD) method of the preconstruction process. Trent credits collaboration between the multiple parties as the key to their success. He says, "…the integrated approach is where you tend to feel most accomplished in what you've done, and relationships are developed in deep ways. At the end of the day, you're all satisfied with what has happened and everybody's hopefully made their profit that they were hoping, and a product was delivered to a client. And ultimately, that's that cool thing about healthcare, you think about the end users that are benefiting from that facility and everybody comes away win, win, win and the integrated process lends itself to that."
But IPD doesn't just simply mean "working together." Successful collaboration on a healthcare project means building real relationships based on mutual trust. But in a profession and industry notorious for keeping information close to the chest, how can you build trust with project teams?
By:
Building trust

Bringing subs in early

Establishing a good program
Building Trust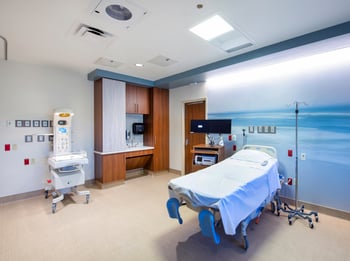 Douglas says, "Trust is something that is so rare in our industry." Douglas suggested taking the extra time to develop personal relationships with your internal and external team. He says, "It's much harder to be upset with somebody when you understand why and how they make decisions the way they do." During Brasfield & Gorrie's first integrated project, the team specifically "carved out time" to understand who they were working with. When you do that, it can eliminate the doubt that someone is hiding something from you. Douglas mentions, "It's harder to mislead somebody if you know them on a personal level." To build trust, Douglas continues, you need to "show some vulnerability."
At Layton, Trent says they lay all their cards on the table. He suggests, "Don't withhold information. Peel the curtain back." He credits the success of the children's hospital to gaining the client's trust. "We opened our books, showed our overhead, our profit and everything," Trent mentions. Transparency gives your client a better understanding of the process and the project's scope and budget.
Bring Subs in Early
The skilled trades are critical in a healthcare project and bringing subs in early to the integrated mix helps the client recognize what a key component they are. Trent says, "The key subcontractors, the MEP trades, drywall and framing in a hospital, those are critical trades to have onboard at an early stage." Breaking down those traditional silos and increasing collaboration with the project team will help the owner see they can be more successful and lends to their profitability.
Building a Good Program
What makes a good program? Douglas answers: "One that answers the essential case of the need." Trent says, "The program tends to drive the success in that early stage of design and how solidified that program is." As the program develops, "it can be challenging to keep everyone in check," Trent comments. However, by collaborating with contractors and designers, the team can benchmark along the way to make sure the key planning units and those revenue drivers for healthcare facilities are still on track within the budget.
The program grows as more ideas are thrown into the pot. To combat upsetting the program, Trent says to spend time upfront in the early stage of the programming phase pointing out that some ideas, even though good, don't always necessarily have the return the owner is looking for. "Pointing that out quickly is how teams are more successful when the program wants to evolve and change," advises Trent. Explain to the owner how those changes impact the budget and then provide alternative options.
What Does All This Add Up To?
Alignment
No project—healthcare or other—will be successful without alignment between the owner, GC, designers, and subcontractors. Alignment with the goals, alignment with the program, alignment with the conditions of satisfaction, alignment with the budget. And you can only do that through collaboration early in the life of the project.
To round it all out, Trent says, "The thing I wish that clients would understand is that cost component, while it's super important, the way that we're going to be successful in delivering you the best outcome is through that collaboration and teamwork. The numbers are important but only to a point we're within an acceptable range. The lowest cost, the lowest fee is maybe not the right decision."