June 22, 2022
Becoming an Estimator—Johnny Rhea's Story
Have you ever heard anyone outside of the construction industry ask you how to get into a career in estimating? Probably not. When most people think of working in construction, they usually think hardhats and toolbelts—field jobs and project management. If they do think of office jobs, they'll probably mention design work such as architecture or a VDC (Virtual Design and Construction) manager before they mention titles like VP of preconstruction or senior estimator.

Why isn't estimating a job that comes up frequently as an answer to this question? There's several reasons. First, estimators are a unique role in that there isn't really any official degree or certification that you need to get there. While some estimators may have had a pretty straight path to that career, many others happen into estimating after years on the field. Second, there just aren't a whole lot of senior or executive preconstruction professionals talking about what their journey to their respective roles was like. That makes it easy for misconceptions and confusion about what you actually need to become an estimator to arise.

So that's why we decided to sit down and chat with Johnny Rhea, Vice President of Preconstruction at Frank Dale Construction, to get a better understanding of what it looks like to move from junior to senior positions within the world of preconstruction.
Johnny's Introduction to Construction
Johnny grew up in a Texas Panhandle town where the primary economy was, and is, oil and gas or agriculture, so at an early age he was exposed to an industry adjacent to construction. His parents ran their own business, which he credits for instilling in him a strong work ethic. "They would bring me everywhere if I behaved, and so I would just hang out, listen to business being done or look at the industry magazines they had in the office," he said.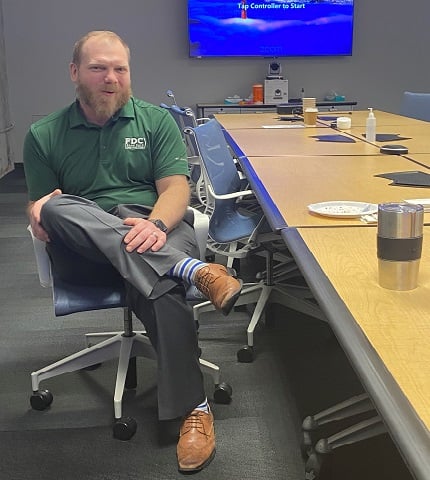 Johnny rockin' his Beck Tech socks in the Beck Technology office.
Johnny graduated in the top 10% of his class in high school, but he wasn't able to attend college without taking on significant debt. He decided to wait on a four-year degree and instead found himself deciding between going to the local junior college to participate in the inceptive class of a tech-prep IT program or enlisting in the Marines. He ultimately chose to go the junior college route, and during that time he took on several different jobs that would help pave the way into his preconstruction career.
He first worked with a roofing supply company driving forklifts and making deliveries, but one day his truck broke down and they put him on a computer, which he quickly found that he excelled at. He then went to work for Lowe's and went from driving forklifts again to the commercial sales desk. "I was providing customer service to contractors and made a connection with one of them, and he told me to call him after graduation and he'd make me a project manager."
In the meantime, though, Johnny made another transition to an inside sales position where his father-in-law worked, Boise Cascade, which was a Berkshire Hathaway company. He found that he advanced much more quickly over his peers who had just left college thanks to his previous hands-on experience. "They had degrees, but they had no knowledge of building materials, and their soft skills were also a little rough because they hadn't had as much time in the working world as I had."
However, Johnny felt purposeless in the insides sale role. "I read this book by Dan Miller called 48 Days to the Work you Love, and I realized I wanted to be a part of building something," he said. So he immediately got to work making it happen. He told everyone he knew about what he wanted to do, and realizing that he still had the information of the contractor he'd connected with it during his time at Lowe's, he called him up and was immediately offered a job as a estimator / project manager.
In that role, Johnny was essentially thrown to the wolves. There was no formalized training or SOP (Standard Operating Procedure), so everything he learned was completely on the job. Thankfully, his technical aptitude and his "spreadsheet ninja" skills kept him afloat, and before long, he was helping present multi-million dollar bids to Fort Worth ISD and DISD. Johnny ultimately continued pursuing preconstruction roles because, as he puts it, "I loved the feeling of being proactive instead of reactive."
We found three important takeaways from our conversation with Johnny:
Consider emphasizing internships or trade school over traditional ideas of education
Focus on passion and adaptability, not just what's on paper

Don't neglect partnerships or networking
Consider Emphasizing Internships or Trade School Over Traditional Ideas of Education
How many times have you seen a job posting with the requirements, "Bachelor's degree or higher," or occasionally, "Bachelor's degree preferred"? Even in jobs like preconstruction where hands-on experience is usually far more valuable than a degree, employers often still demand to see at least two letters after your name. But as Johnny pointed out, he was able to pick up on things much faster than his just-graduated peers because the time they'd spent in the classroom was time he'd spent working and actually getting first-hand experience. Johnny adds that this observation wasn't unique to him—he notes that the new hires who do the best at his current company, Frank Dale Construction, are the ones who either came from the field or who were able to do internships their senior year prior to graduation. Don't be afraid to consider people for your preconstruction team that possibly break stereotypes of what you think an estimator should look like.
Focus on Passion and Adaptability, Not Just What's on Paper

Unfortunately, despite the fact that Johnny's experience gave him an edge in the working world, he found that not having a four-year degree hindered him when it came to being compensated appropriately for his skillset. This was especially true in his first preconstruction role when moving to focus strictly on estimating. "You know, though the company was promoting from within, I was still the most favorable choice. It felt I was not approached the same way a highly desired outside candidate would be. The way they would look at it was, 'hey, we took a chance on you even though you don't have a degree or experience,'" Johnny said.
It's important to remember that even if they are already on your team, if someone is doing their job excellently and shows great engagement and loyalty, it doesn't matter how many certifications or bachelor's they've racked up. You do not have to have a specific opponent to begin competing to retain talent, and you are much likelier to lose employees' trust and skills by neglecting to recognize their value.
Don't Neglect Partnerships or Networking
Last but certainly not least, don't neglect partnerships or networking. Johnny found his way into preconstruction thanks to a connection made while he was working at Lowe's. While job fairs and campus recruitment are all well and good, that may not actually be where your potential estimators are at. Instead, look to those who are ready to move out of the field and into the office, or who might want to transition from an adjacent role like construction sales/technology.
Additionally, when you do make partnerships with industry organizations, make sure they're intentional moves that will truly benefit your team. Frank Dale Construction, where Johnny serves as Vice President of Preconstruction, works with Texas A&M to offer internships to senior students—and in fact, Texas A&M requires students to have at least one internship under their belt before graduating.
Everyone takes a different route to get to where they are in their career. Which one of these takeaways gives your company the most valuable estimators?