January 06, 2023
An Estimator's New Year's Resolutions
New Year's resolutions are a surprisingly controversial topic. Some people see the new year as a time to start afresh and work on building better habits. Other people feel that resolutions are often way too far-fetched, to the point that they're impossible to accomplish. In fact, there's even some evidence to back this position up – an article from the New York Times points out that one-third of people who make resolutions at the beginning of the year don't even make it past January.
So how can you avoid being part of that one-third? How can you make resolutions this year that will not only benefit what you're trying to do as an estimator, but also be something that you can realistically achieve before another year is over? We've got a few suggestions so you can start and finish strong.
Stop working until 8pm every night
Try to work remote at least one day a week
Leave behind what isn't working and embrace something different
Stop Working until 8 pm Every Night
One of the biggest struggles of being an estimator? The seemingly endless workdays. Just when you think you're going to be able to clock out right at 6 pm for once, something else comes up – a change order, incorrect data that needs to be fixed, new information that now needs to get added to the estimate ASAP. Before you know it, you look up and it's three hours past the time you were supposed to leave.
Of course, in just about every industry, there will be the occasional day when you have so many projects that you do need to stay a little later than usual. But when it becomes a regular, weekly occurrence, that's a problem. Working long hours doesn't just impact morale, either. It can negatively affect overall performance, and it can even go beyond work and began damaging personal relationships.
But we believe it doesn't always have to be that way. Whether you need to make sure that your processes are efficient enough to help you leave work on time, or you need to invest in updated estimating software to automate more of your time-consuming tasks, make it a goal to start getting home before dark this year.
Try to Work Remotely at Least One Day a Week
In that same vein, consider making remote work at least one day a week a bigger priority. While a hybrid schedule or fully remote work isn't always possible within the precon world, even just one day of "telecommuting" can bring big benefits. A Stanford study found that employees with the opportunity to work remotely are 13% more productive than their peers who are in the office full-time.
It's also an extremely in-demand benefit. Precon staffing firm Niche SSP discovered that 78% of estimators would rather have a better work-life balance than a promotion. That single day of remote work can mean the chance to actually get a workout in, see the dentist, and hang out with your kids when they get home.
Leave Behind What Isn't Working and Embrace Something Different
Last but certainly not least, another common challenge in our industry is that we're notoriously reluctant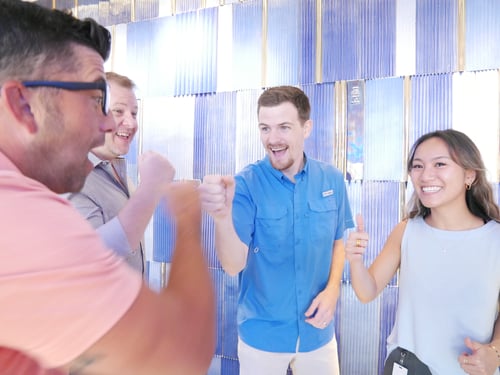 to switch things up. An article from Construction Exec observes that even when contractors are actively searching for new tech to improve their processes, there's still a great deal of hesitancy when it comes time for the actual implementation. Why? Project costs are a big one. A lot of companies aren't able to dedicate corporate resources to testing and implementing new technologies when they're already struggling to reduce overhead costs. Too many stakeholders is another major one – deciding who pays for a different software, and who will oversee its implementation, often brings these kinds of potential changes to a complete halt. Last but not least, a steep learning curve can also be a significant barrier to entry.
While we never want to downplay the energy and resources it takes to onboard a new software or learn a better estimating process, we likewise don't want to downplay the benefits that ultimately outweigh the costs. In today's world of rising material prices and owners who still want to stay under budget, it's more important than ever to understand that sometimes you'll have to endure short-term pain for a long-term gain.
What are You Resolving to do Differently This Year?
Some of the estimators we've talked to recently are committing to no longer working until 8 pm. Others are focusing on expanding their team. And still, others are looking to increase the amount of work they're winning. All of these are pretty lofty goals. If you want to make sure that you don't fall into the category of those who give up on meeting their goals by the end of January, reach out to us by clicking the button below to schedule a conversation. Let us know what you're trying to accomplish this year, and we'll show you how we can help.