August 28, 2023
What Architects Want GCs to Know
Collaboration, collaboration, collaboration: This mantra can make the difference between a successful partnership or a contentious experience between architects and contractors.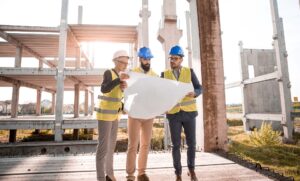 According to a study by the American Institute of Architects and the Associated General Contractors of America, both groups value early and frequent collaboration as key to building strong relationships. The majority — 80% of architects and 73% of contractors — targeted design development as the ideal project phase for starting the teamwork.
Click here to read about the benefits of collaborating with the design team.
"It's best when the client brings on contractors for pre-construction advising and cost estimates, so we can include their input during design development," said architect Kate Conley, partner at San Jose, California-based Architects FORA. "They can offer ideas getting the same result in a more affordable way."
Architect David Haresign, partner of Washington, D.C.-based Bonstra Haresign Architects involves contractors even sooner — at end of schematic design — so they understand reasons behind design choices. He says developers benefit too, because changes cost less when made earlier. His partner, Bill Bonstra, said that this type of close collaboration with contractors "helps us understand how things are built and what they cost."
Benjamin Kasdan, a principal at Irvine, California-based residential architect firm KTGY who is based in Virginia, said money was saved on a 12-story rental above retail building currently under construction in Washington, D.C., in which the developer originally wanted to use light gauge steel.
"The GC was running cost analysis and it became apparent we were past the limits of economy of scale for that structural system," Kasdan said. "So, we switched the structure to concrete, which also let us add the penthouse amenity space — in particular the pool — and ended up saving the developer money."
Substitution Struggles
While architects expect substitutions, they feel some contractors go overboard, possibly without considering ramifications. More than half of the architects in the AIA/AGC study felt contractors weren't always considering client interests when proposing substitutions. Kasdan told Construction Dive that chasing savings through multiple substitutions without understanding the big picture can erode a building's quality and value for the client or future residents.
Pedram Farashbandi, principal at San Francisco-based David Baker Architects, said he's known contractors to make substitutions because they're hesitant to try something outside their comfort zone, which hampers innovation.
He wants contractors to ask themselves: "Do my proposed alternatives align with project goals or am I suggesting them simply because they conform to my usual way of doing things?"
Conley appreciates contractors who share the why behind substitutions — especially when they do so with drawings. This aligns with the AIA/AGC study findings showing most architects feel contractors understand and follow their design intent.
"Wonderful contractors will take the time to understand our intent," she said. "They offer suggestions rather than getting defensive or presenting a huge change order. And I love it when they understand the power of visual communication — like RFIs [request for information] with detailed overlays showing their suggested solution."
Substitutions often come in the form of swapping materials. Selecting certain materials can increase a building's aesthetics and resilience, along with residents' wellbeing. So, architects say they need to know early in the process if a contractor wants to use something different.
"We have to research to see if the subbed-out material meets code standards and performs as well," Kasdan said, "And we can spend a lot of the construction budget vetting them, sometimes not leaving enough to deal with bigger issues."
Bonstra says using modest materials in innovative ways while working within standard dimensions simplifies construction and reduces waste. He also pays particular attention to material alignments.
"Adding a simple offset where one material ends and another begins allows contractors to make the transition more easily," he said. "We also try not to force materials to do things they don't want to do, which makes them expensive."
Collaboration works both ways, according to Farashbandi: "I provide explanations to the building team regarding my design choices and [they] appreciate this open dialogue, often proposing better solutions."
Sustainability Sense
Conflicts can also arise about sustainable products or energy-saving systems, which can cost more up front but save money throughout a building's lifecycle. Haresign said he appreciates developers and contractors that realize that sustainable choices are no longer optional as building codes get more stringent.
"In D.C., we're headed for a net zero target by 2040, which translates into real requirements."
Conley believes this aim for carbon neutrality is the next big step in green building standards. "Concrete is super durable, for example, but it has a huge amount of embodied carbon," she said.
"So instead of parking garage walls being solid concrete, we cut out sections and fill with metal mesh screens covered in plants — it's still secure but now has carbon positive elements."
If contractors position themselves as having the ability to navigate net zero building materials and techniques, it will give them a competitive edge, according to Conley.
Architects say they realize the importance of cost savings but feel it's their place to emphasize to developers and contractors that saving a little now might cost more later.
"One of the most difficult scenarios arises when we engage in value engineering without a clear goal, solely for the sake of cost reduction," said Farashbandi. "Something can always be made cheaper, but if consequences aren't considered, repercussions may become evident during construction — or even after the project's completion.
This article was written by Leed-Ap and Shelley D. Hutchins from Construction Dive and was legally licensed through the Industry Dive Content Marketplace. Please direct all licensing questions to legal@industrydive.com.