February 21, 2020
Maintaining Culture Through Company Growth
This article was written by Julie Huval, Head of Marketing at Beck Technology, and published in the February 2020 edition of ©Marketer, The Journal of the Society for Marketing Professional Services by SMPS.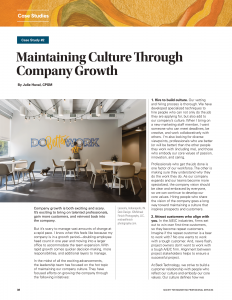 Company growth is both exciting and scary. It's exciting to bring on talented professionals, gain more customers, and reinvest back into the company.
But it's scary to manage vast amounts of change at a rapid pace. I know what this feels like because my company is in a growth period-doubling employee headcount in one year and moving into a larger office to accommodate the team expansion. With rapid growth comes quicker decision-making, more responsibilities, and additional layers to manage.
In the midst of all the exciting advancements, the leadership team has focused on the hot topic of maintaining our company culture. We have focused efforts on growing the company through the following initiatives:
1. Hire to build culture
Our vetting and hiring process is thorough. We have developed specialized techniques to hire people who can not only do the job they are applying for but also add to our company's culture. When I bring on a new marketing staff member, I want someone who can meet deadlines, be creative, and work collaboratively with others. I'm also looking for diverse viewpoints, professionals who are better (or will be better) than the other people they work with (including me), and those who embody our core values of passion, innovation, and caring.
Professionals who get the job done is one factor of our workforce. The other is making sure they understand why they do the work they do. As our company expands and our teams become more specialized, the company vision should be clear and embraced by everyone, so we can continue to develop our core values. Hiring people who share the vision of the company goes a long way toward maintaining a culture that inspires prospects and customers.
2. Attract customers who align with you
In the A/E/C industries, firms set out to win over first-time customers, so they become repeat customers. Imagine if the repeat customer is a bear to work with? No one wants to work with a tough customer. And, news flash, project owners don't want to work with a tough A/E/C firm. Alignment between project stakeholders helps to ensure a successful project.
At Beck Technology, we strive to build a customer relationship with people who reflect our culture and embody our core values. Our culture defines how we treat them as a person … not a revenue number. We communicate regularly and often from a multitude of angles that align marketing, project, and C-suite teams from both sides of the project. When we cultivate our culture with our customers, it makes our business that much sweeter and collaborative.
3. Make decisions based on culture
As a company grows, the decision-making process goes into overdrive. More people need answers to a variety of topics. And if you aren't careful, one decision can affect the entire company unknowingly. For example, if you make a decision based on the needs of one customer, how does that decision affect your other customers? Did you over-commit one of your employees to complete a project but sacrifice another in the process?
Every decision should use the company culture as a litmus test when figuring out the pros and cons of the final decision. How will a decision affect employee morale? If maintaining a good culture is a priority for the company, managers and leaders need to make these important assessments.
4. Reinforce and celebrate culture
Company culture is not a document that gets buried on a server somewhere. And it doesn't live in the leadership team's manifesto. Company culture is curated and developed by all employees. Reinforce it daily through personal conversations, actions (how you treat others), and interactions with customers.
One of my company's favorite days is the first Monday of the month. That's when we conduct our "Beck Tech Cares" luncheons. Throughout the month, team members nominate peers for actions that have embodied our core values, and during the luncheon, we read each nomination and name an honoree for the month. That person receives $100 to donate to a charity or individual of their choice. This activity strengthens our culture and gives accolades to colleagues going above and beyond in their roles and for the company. Hiring people who share the vision of the company goes a long way toward maintaining a culture that inspires prospects and customers.
Culture grows but doesn't shift
As more people join the company and bring with them different experiences and ideas, the culture will naturally grow. But it should never shift off its core values, which are the foundation of culture. As our headcount increases, I still see a thriving company culture where employees get excited about projects, customers' successes, and peer advancements.
Some may ask if a company is successful, why care about the company culture? The culture is what keeps a company successful and drives interest, not only for potential new hires but also for customers who want to align themselves with an organization that understands differentiation, honesty, and integrity. When a company puts financial success ahead of cultivating culture, it becomes a commodity with no soul. Company culture breathes life into a business.
Give team members the opportunity to celebrate the culture they are developing. Also, give them the room to modify it as your company grows. Over time, this growth can help your company culture improve and become more well-defined.