February 21, 2023
Creating Better Estimators-A Findorff Case Study
158,000 people left the construction industry in December 2022. One of the highest levels of departure rates across all industries.
According to Associated Builders and Contractors (ABC), "to meet demand," the construction industry needs to hire 590,000 people this year. Anirban Basu, ABC Chief Economist says, "The workforce shortage is the most acute challenge facing the construction industry despite sluggish spending growth." It's no surprise that Deloitte US's 2023 construction trend outlook report found that 82% of general contractors who responded said that an exiting workforce is a primary concern for the year.
With a lack of interest among younger generations of workers entering the industry, how do we combat this challenge? For starters, we must attract and properly prepare those graduating with construction degrees to become good estimators.
With people resources making up 70% of the total of business costs, it makes perfect sense to invest in your biggest investment. For Wisconsin-based contractor, Findorff, this means identifying beginning project engineers who are fit for preconstruction and growing them for long-term success.
At Precon World 2022, Sam Lawrence, Vice President of Preconstruction at Findorff outlined how his company hires, trains, and transitions new hires into preconstruction. Their goal is to find the right fit for precon long-term and focus on their growth. Sam believes your team is the most important tool you have, so you should surround yourself with good people. The training process at Findorff takes a few years and is a three-step process.
Sam says they hire project engineers out of college and "put them in a rotation that takes 2 to 3 years."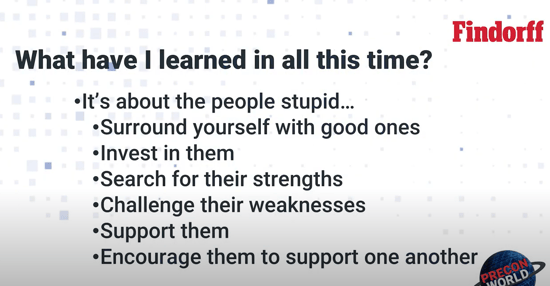 Step 1
:
The Field
"You can't be an effective estimator, especially grow yourself into a conceptual estimator, if you don't learn that stuff," says Sam. "That stuff" Sam is referring to is learning how a building gets built. A new hire goes out into the field under a superintendent to learn the build process.
Step 2
:
Project Management
After being in the field, the new employee shadows under a project manager and will be given a portion of work of that project. Here they learn costing and how to work with owners and architects.
Step 3
:
Entering Preconstruction
Managers and directors of precon should follow new hires to gauge their efficacy in the skills it takes to make a great estimator. Once identified, bring them out of the field into precon and let them learn the tools for 1 to 1-1/2 years. Here is where they will learn to think through an entire project from beginning to end and learn to think critically.
Once in preconstruction, Sam says the key to retaining new estimators is by finding your replacement and training them. For those new to the industry, being able to see their future growth at the company will get them excited. Josh Thompson, the founder of construction company Thompson Exterior Services, says, "Leaders should work to create clear paths within the company structure that allow for employee growth. Construction can be labor and time-intensive, so employees will want to know how they can progress to the next step in their career."
Sam also provides four other key elements to investing in good estimators:
Give new hires your time and mentor them

Find their strengths and capitalize on those strengths and use them to train others

Identify weaknesses and work with them to improve those weaknesses

As a manager or senior level estimator/precon, support them and guide them to make good decisions
We haven't done well to attract younger people into preconstruction. However, with advancements in technology like automation, data-based estimating software, increased collaboration with owners and architects, and the rise in popularity of sustainable construction, you can sell the estimating position of one of analysis, creative problem solving and having an incredible impact on a project.
Take it from Sam who says "It's about the people. Surround yourself with good ones." But you got to attract them first.
If you want to learn more about hiring people into precon, read the following blog posts: