September 14, 2022
7 Signs You and Your Preconstruction Software Are Compatible
Have you ever wondered if you and your construction estimating software are actually compatible? If you haven't, you should. Software compatibility sounds pretty straightforward: it either works for you and helps make you more money than you would without it, or it doesn't.
Wrong. It's easy to get caught up in what your dream preconstruction software should and shouldn't have. That's especially true if you've gotten in and out of a few different relationships with estimating tools over the years. But it misses a significant part of the equation: you and your team! While determining what you'll need in a software and researching what's on the market is definitely important, it won't matter much if your team isn't actually ready to get into a new relationship. In order to make a successful switch, you'll have to do some serious self-reflection way before you hit that demo request button. Otherwise, you may find yourself with an incredibly pricey product that you never even use.
So what qualities should you make sure that your team has? Take a look at this quick and easy compatibility checklist to find out the 7 signs that mean you and your estimating software are truly a match made in heaven.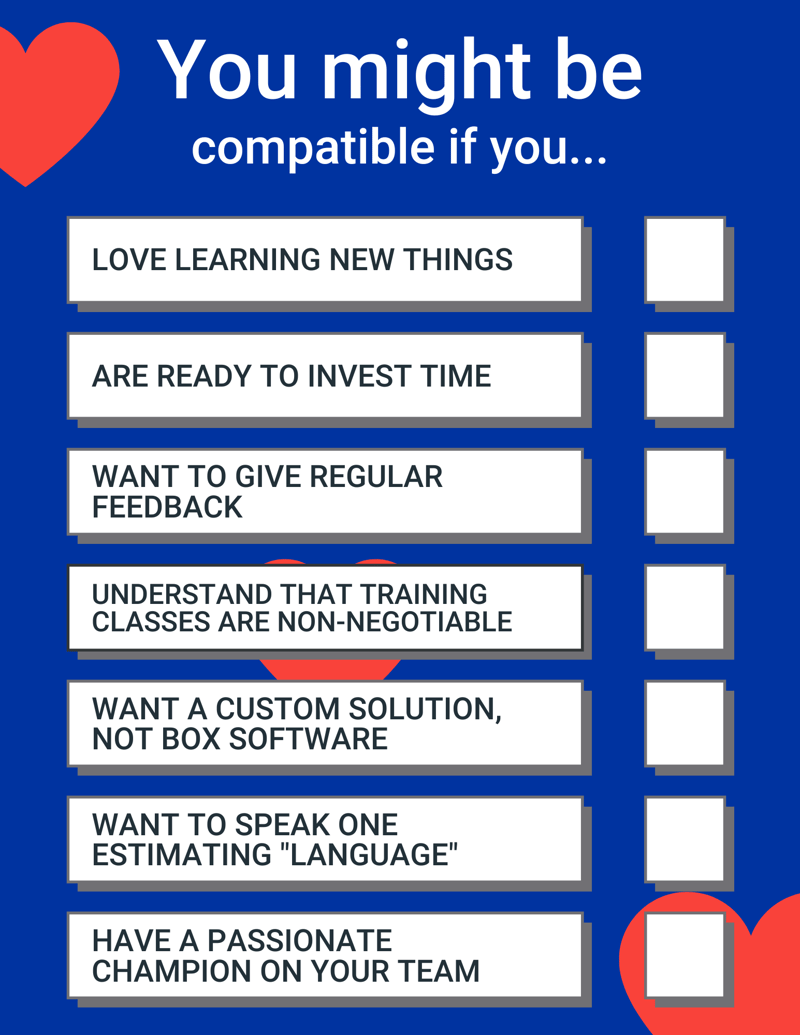 If you checked off at least four of the boxes on our list, it's a good sign that you're actually ready to move on from just researching products to getting your hands on them. If that's you, we encourage you to go ahead and request a demo of our premiere construction estimating software DESTINI Estimator here. But if that isn't you, check out some previous blogs we've written about how to make sure you're ready to be a good partner.