Solving Accessibility Issues in DESTINI Estimator—Gilbane Building Company Case Study
Any company can tell you they are customer-centric and provide a level of customer service that exceeds expectations. But it's all lip service until they can prove it. When we tell you we take customer feedback seriously, we really mean it. We're not just feeding you a line. We're proud of our partnerships and proud of the customized solutions we offer them.
We built our estimating software, DESTINI Estimator, because of client feedback. Sundt Construction was the inspiration behind it all. They were using our first software, DProfiler, when they realized that they needed a tool to capture and benchmark data to solidify their reputation as an innovative leader in construction. They knew that in order to do this, they needed a single source preconstruction solution that integrated takeoff software with the capability of estimating. They reached out to us and asked if we could build on DProfiler. We absolutely could, and now we have a robust, fully integrated preconstruction and estimating software used by many of the ENR Top 400 Contractors in the country.
That partnership between Beck Technology and Sundt was just the beginning and laid the groundwork for our business model. We have similar stories with PC Construction, who inspired us to roll out the Disconnected Workflows feature in DESTINI Estimator and PARIC Corporation was a big driver for us to develop a cloud-hosted version of DESTINI Estimator.
We value communication and collaboration so highly that they are one of our favorite benefits of DESTINI Estimator. We don't work in silos at Beck Tech and know firsthand that eliminating siloed work in preconstruction leads to better project outcomes. That's why we maintain multiple avenues for our software users to provide feedback. We have an online community where you can reach other users and our in-house support team, as well as a new Customer Success team that is dedicated to helping you get the most out of the DESTINI suite of products. Customer Success doesn't just offer hands-on training and best practices, but they also are active listeners and value every suggestion, desire, and need a client expresses in functionality and features they'd like to see in our software.
The Challenge
It was during one of our regular calls to a client that we had one of the most eye-opening and humbling experiences when it comes to enhancing DESTINI Estimator based on user feedback.
Gilbane Building Company, a leading global general contractor, has been a Beck Technology client since 2018 and are now expert users of DESTINI Estimator. During a routine meeting, they mentioned that one of their estimators had limited use of their hands and was struggling to perform multiple takes (tasks?) in DESTINI Estimator, specifically when panning in the 2D takeoff feature.
Originally, DESTINI Estimator was designed so that users had to use both the keyboard and mouse to perform panning in takeoff. To do this, users had to hold the control key on the keyboard and click the right mouse button. For this user, who utilizes an onscreen keyboard, panning in 2D was inefficient.
The Solution
We Completely Broke Our Process
Jon Chumbley, Beck Technology Head of Development says, "We completely broke our process" to fix this (what was short-sighted from the beginning on our end) functionality in Estimator.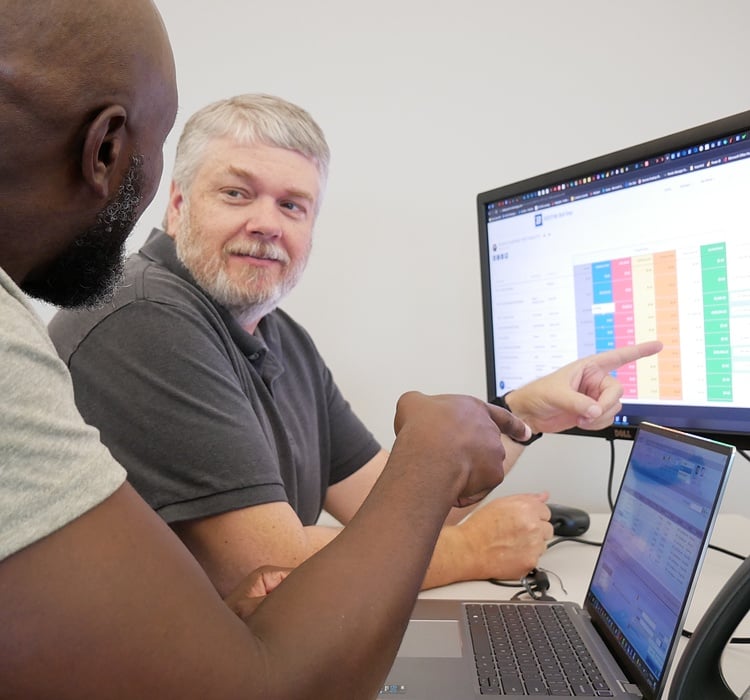 Normally, the way updates work is we gather all the feedback from Customer Service, Development, Customer Success, and our Sales departments and discuss the level of needs. We then prioritize enhancements and features, and put them in order in our backlog. Most will roll out in scheduled updated versions of DESTINI Estimator; however, we will roll out what we call a patch. Patches are updates between versions to DESTINI Estimator only on the rare occasion when a significant bug is dedicated.
When we heard that one of Gilbane's estimators was barely able to perform their day-to-day tasks, we knew we had to provide a solution as quickly as we could. Our developers were knee-deep in working on the latest version of Estimator, so we turned to our Innovations Lab to jump in.
The Beck Technology Innovations Lab consists of only two people—Eric Fritsche and Mario Rosales— whose roles are to work only on proof of concepts. The code they write doesn't go into production. But in this case, Mario switched gears and in two days had production-ready code that made DESTINI Estimator easier to use.
During the development process, our team met with the estimator and provided them with a working version of the new functionality and asked about specific pain points and how to continue to make their experience with DESTINI Estimator better.
Mario says, "when you design software, you want to design it in a way that the user has to do less movement and less clicking in general." This patch update of DESTINI Estimator not only eliminated the need to hold the control button down to the pan, but also made it easier to navigate around takeoff, added a button on the ribbon to cancel a current drawing, made it easier to select multiple items, and slowed auto pan down when zoomed in a drawing.
The Results
"It Gives You the Warm Tingles"
Both Mario and Jon expressed how the conversations with Gilbane led to deeper internal conversations about other accessibility issues DESTINI Estimator users may have. Mario says, "it gets you to think about things in a different light. There are so many other things we want to do. It was just the tip of the iceberg."
One of our core values is caring and Jon says, "it makes me extremely proud to work for a company where everybody all the way up says, 'oh my gosh, we have to do something about this'…to see the level of care we have. It gives you the warm tingles."
There are still some functions of 2D takeoff in DESTINI Estimator that are on our backlog to explore what else we can do to enhance the experience of those users who have limitations, but like Mario said, this recent patch was just the beginning.
DESTINI Estimator estimating software is helping precon teams just like yours to complete accurate and data-driven estimates in half the time. If you are ready to level-up and provide owners with more value than you can with your legacy software, schedule a call today and find why DESTINI Estimator users are winning more work.